Research in organic chemistry at UNC Chapel Hill covers a broad range of subjects from synthetic methods development to the design of materials with functions inspired by biological systems. Research is often interdisciplinary and involves science at the frontiers of polymer chemistry, inorganic chemistry, physical chemistry, materials science and bioorganic chemistry.
With nine faculty members formally in the organic division and a number of faculty members from other divisions whose research involves organic chemistry, graduate students find they have a wide range of choices for their doctoral research.
Synthetic Methods Development
Natural Products Synthesis
Chemical Catalysis
Bioorganic Chemistry
Molecular Photochemistry
Supramolecular Chemistry
Molecular Recognition
Chemical Biology
Medicinal Chemistry
Polymer Synthesis and Functionalization
Recent Research Results
Atmospheric Deposition and Annual Flux of Legacy Perfluoroalkyl Substances and Replacement Perfluoroalkyl Ether Carboxylic Acids in Wilmington, NC, USA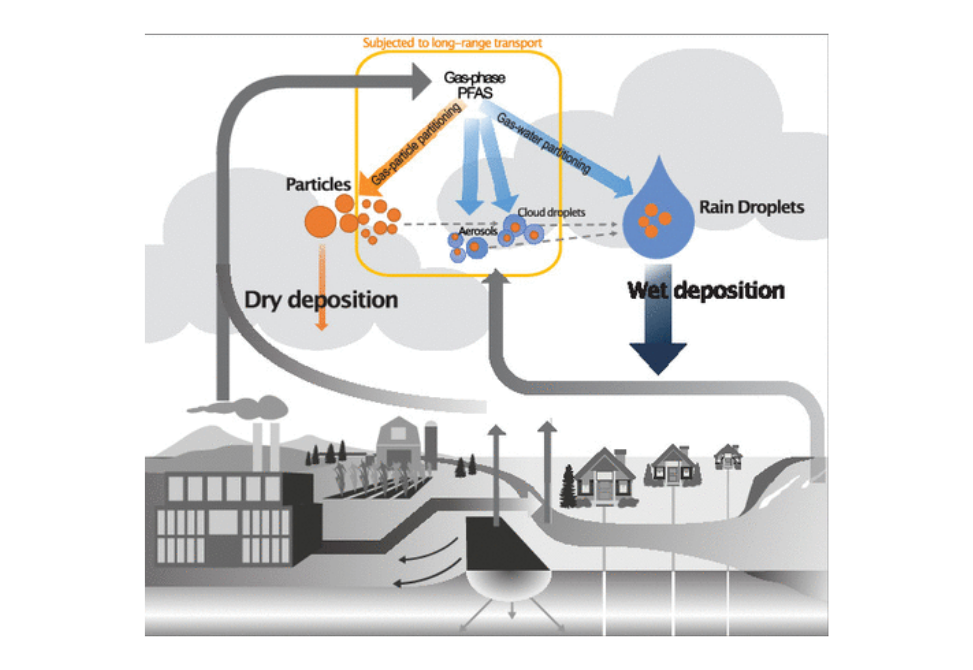 This study shows the first direct evidence of PFECAs in wet and dry deposition. The data suggest that the particle-bound and gas-phase PFAS that may have undergone long-range transport can be incorporated into raindrops and removed rapidly.
PFOS dominates PFAS composition in ambient fine particulate matter (PM2.5) collected across North Carolina nearly 20 years after the end of its US production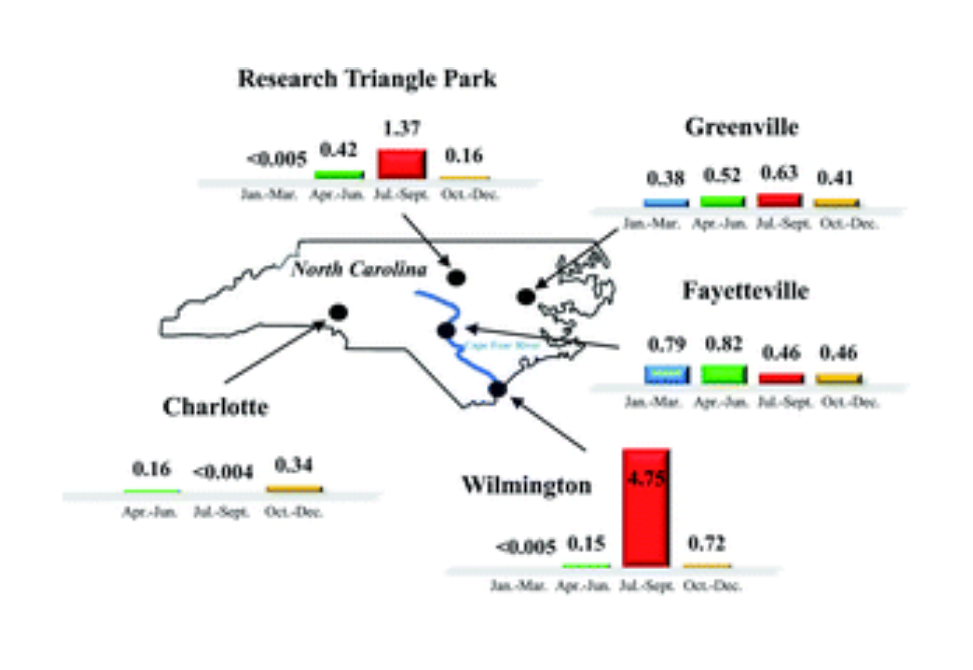 Thirty-four PFASs, including perfluoroalkyl carboxylic, perfluoroalkane sulfonic, perfluoroalkyl ether carboxylic and sulfonic acids were analyzed by UHPLC/ESI-MS/MS.
Representative Publications
Environmental Science & Technology Letters.
.
Atmospheric Deposition and Annual Flux of Legacy Perfluoroalkyl Substances and Replacement Perfluoroalkyl Ether Carboxylic Acids in Wilmington, NC, USA Megumi S. Shimizu, Rachael Mott, Ariel Potter, Jiaqi Zhou, Karsten Baumann, Jason D. Surratt, Barbara Turpin, G. Brooks Avery, Jennifer Harfmann, Robert J. Kieber, Ralph N. Mead, Stephen A. Skrabal, and Joan D. Willey Environmental Science & Technology Letters 2021 8 (5), 366-372 DOI: 10.1021/acs.estlett.1c00251
Environmental Science: Processes & Impacts.
.
PFOS dominates PFAS composition in ambient fine particulate matter (PM2.5) collected across North Carolina nearly 20 years after the end of its US production J. Zhou, K. Baumann, R. N. Mead, S. A. Skrabal, R. J. Kieber, G. B. Avery, M. Shimizu, J. C. DeWitt, M. Sun, S. A. Vance, W. Bodnar, Z. Zhang, L. B. Collins, J. D. Surratt and B. J. Turpin Environmental Science: Processes & Impacts, 2021,23, 580-587 DOI: 10.1039/D0EM00497A
Macromolecules.
.
Protein-Mimetic Self-Assembly with Synthetic Macromolecules Meredith H. Barbee, Zoe M. Wright, Benjamin P. Allen, Hailey F. Taylor, Emily F. Patteson, and Abigail S. Knight Macromolecules 2021 54 (8), 3585-3612 DOI: 10.1021/acs.macromol.0c02826
ACS Catalysis.
.
β-Functionalization of Saturated Aza-Heterocycles Enabled by Organic Photoredox Catalysis Natalie Holmberg-Douglas, Younggi Choi, Brian Aquila, Hoan Huynh, and David A. Nicewicz ACS Catalysis 2021 11 (5), 3153-3158 DOI: 10.1021/acscatal.1c00099
Synlett.
.
Milled Dry Ice as a C1 Source for the Carboxylation of Aryl Halides Connor J. O'Brien, David A. Nicewicz Synlett 2021, 32, A-C DOI: 10.1055/a-1384-0159
Chemistry & European Journal.
.
Mimicking Biological Recognition: Lessons in Binding Hydrophilic Guests in Water Hannah P Ferguson Johns, Emily E Harrison, Kyla J Stingley, Marcey L Waters Chemistry 2020 Oct. 13 Doi: 10.1002/chem.202003759
Organic Letters.
.
Direct Radiofluorination of Arene C–H Bonds via Photoredox Catalysis Using a Peroxide as the Terminal Oxidant Li Wang, Alexander R. White, Wei Chen, Zhanhong Wu, David A. Nicewicz, and Zibo Li Organic Letters 2020 22 (20), 7971-7975 DOI: 10.1021/acs.orglett.0c02815 
Trends in Chemistry.
.
Application of Atomic Layer Deposition in Dye-Sensitized Photoelectrosynthesis Cells Degao Wang, Qing Huang, Weiqun Shi, Wei You, Thomas J. Meyer Trends in Chemistry 2020 3 (1), 59-71 DOI: 10.1016/j.trechm.2020.11.002
Organic Letters.
.
Diastereo-, Enantio-, and anti-Selective Formation of Secondary Alcohol and Quaternary Carbon Stereocenters by Cu-Catalyzed Additions of B-Substituted Allyl Nucleophiles to Carbonyls Emilie Wheatley, Joseph M. Zanghi, and Simon J. Meek Organic Letters 2020 22 (23), 9269-9275 DOI: 10.1021/acs.orglett.0c03495