Research in organic chemistry at UNC Chapel Hill covers a broad range of subjects from synthetic methods development to the design of materials with functions inspired by biological systems. Research is often interdisciplinary and involves science at the frontiers of polymer chemistry, inorganic chemistry, physical chemistry, materials science and bioorganic chemistry.
With nine faculty members formally in the organic division and a number of faculty members from other divisions whose research involves organic chemistry, graduate students find they have a wide range of choices for their doctoral research.
Synthetic Methods Development
Natural Products Synthesis
Chemical Catalysis
Bioorganic Chemistry
Molecular Photochemistry
Supramolecular Chemistry
Molecular Recognition
Chemical Biology
Medicinal Chemistry
Polymer Synthesis and Functionalization
Recent Research Results
Switching between X-Pyrano-, X-Furano-, and Anhydro-X-pyranoside Synthesis (X = C, N) under Lewis acid Catalyzed Conditions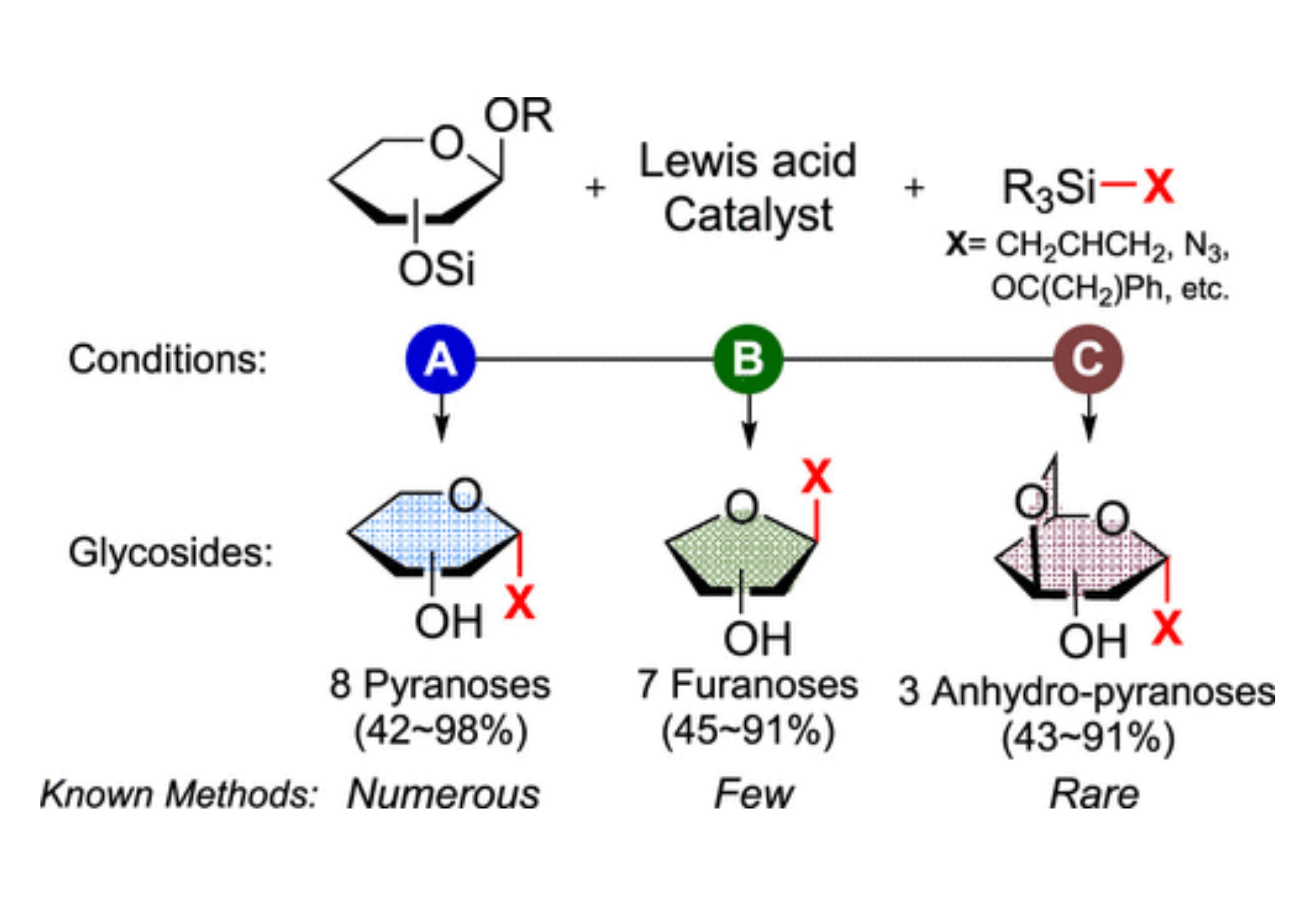 A variety of C-glycosides can be obtained from the fluoroarylborane (B(C6F5)3) or silylium (R3Si+) catalyzed functionalization of 1-MeO- and per-TMS-sugars with TMS-X reagents.
Contributions of methionine to recognition of trimethyllysine in aromatic cage of PHD domains: implications of polarizability, hydrophobicity, and charge on binding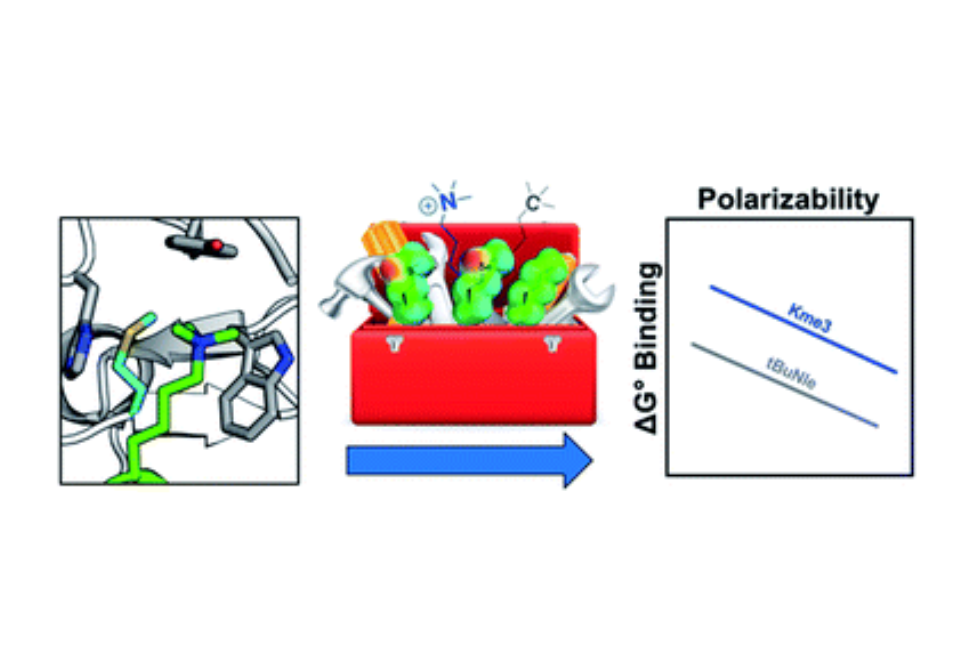 Our studies demonstrate that Met contributes to binding via dispersion forces, with about an equal contribution to binding Kme3 and tBuNle, indicating that electrostatic interactions do not play a role.
Representative Publications
Chemical Science.
.
Contributions of methionine to recognition of trimethyllysine in aromatic cage of PHD domains: implications of polarizability, hydrophobicity, and charge on binding Katherine I. Albanese and Marcey L. Waters Chemical Science 2021, Advance Article DOI: 10.1039/d1sc02175c
Environmental Science & Technology Letters.
.
Atmospheric Deposition and Annual Flux of Legacy Perfluoroalkyl Substances and Replacement Perfluoroalkyl Ether Carboxylic Acids in Wilmington, NC, USA Megumi S. Shimizu, Rachael Mott, Ariel Potter, Jiaqi Zhou, Karsten Baumann, Jason D. Surratt, Barbara Turpin, G. Brooks Avery, Jennifer Harfmann, Robert J. Kieber, Ralph N. Mead, Stephen A. Skrabal, and Joan D. Willey Environmental Science & Technology Letters 2021 8 (5), 366-372 DOI: 10.1021/acs.estlett.1c00251
Environmental Science: Processes & Impacts.
.
PFOS dominates PFAS composition in ambient fine particulate matter (PM2.5) collected across North Carolina nearly 20 years after the end of its US production J. Zhou, K. Baumann, R. N. Mead, S. A. Skrabal, R. J. Kieber, G. B. Avery, M. Shimizu, J. C. DeWitt, M. Sun, S. A. Vance, W. Bodnar, Z. Zhang, L. B. Collins, J. D. Surratt and B. J. Turpin Environmental Science: Processes & Impacts, 2021,23, 580-587 DOI: 10.1039/D0EM00497A
Macromolecules.
.
Protein-Mimetic Self-Assembly with Synthetic Macromolecules Meredith H. Barbee, Zoe M. Wright, Benjamin P. Allen, Hailey F. Taylor, Emily F. Patteson, and Abigail S. Knight Macromolecules 2021 54 (8), 3585-3612 DOI: 10.1021/acs.macromol.0c02826
ACS Catalysis.
.
β-Functionalization of Saturated Aza-Heterocycles Enabled by Organic Photoredox Catalysis Natalie Holmberg-Douglas, Younggi Choi, Brian Aquila, Hoan Huynh, and David A. Nicewicz ACS Catalysis 2021 11 (5), 3153-3158 DOI: 10.1021/acscatal.1c00099
Synlett.
.
Milled Dry Ice as a C1 Source for the Carboxylation of Aryl Halides Connor J. O'Brien, David A. Nicewicz Synlett 2021, 32, A-C DOI: 10.1055/a-1384-0159
Chemistry & European Journal.
.
Mimicking Biological Recognition: Lessons in Binding Hydrophilic Guests in Water Hannah P Ferguson Johns, Emily E Harrison, Kyla J Stingley, Marcey L Waters Chemistry 2020 Oct. 13 Doi: 10.1002/chem.202003759