Research in organic chemistry at UNC Chapel Hill covers a broad range of subjects from synthetic methods development to the design of materials with functions inspired by biological systems. Research is often interdisciplinary and involves science at the frontiers of polymer chemistry, inorganic chemistry, physical chemistry, materials science and bioorganic chemistry.
With nine faculty members formally in the organic division and a number of faculty members from other divisions whose research involves organic chemistry, graduate students find they have a wide range of choices for their doctoral research.
Synthetic Methods Development
Natural Products Synthesis
Chemical Catalysis
Bioorganic Chemistry
Molecular Photochemistry
Supramolecular Chemistry
Molecular Recognition
Chemical Biology
Medicinal Chemistry
Polymer Synthesis and Functionalization
Recent Research Results
Application of Atomic Layer Deposition in Dye-Sensitized Photoelectrosynthesis Cells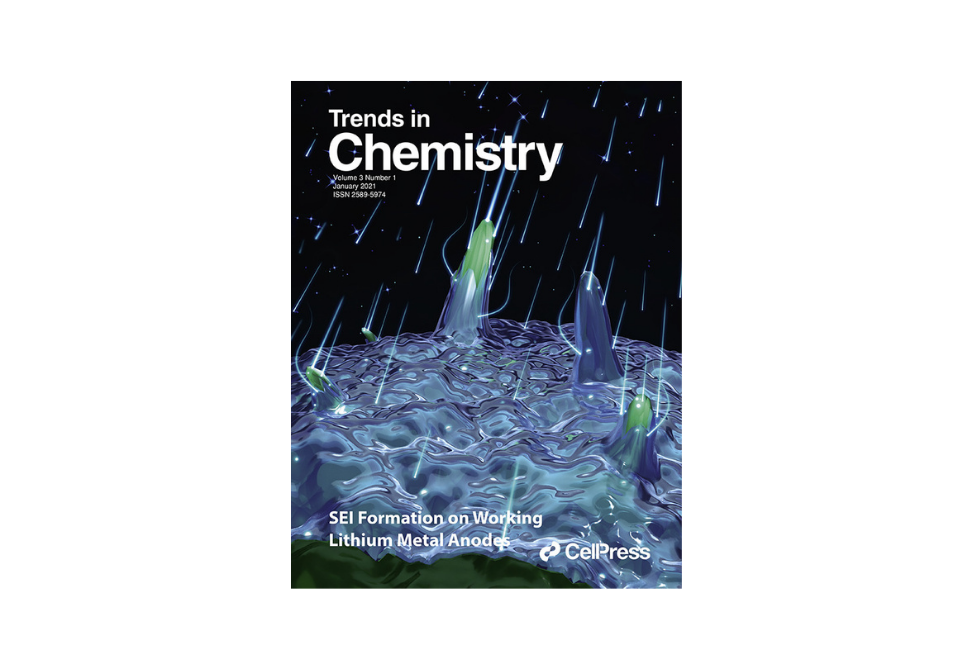 This review focuses on applications of ALD in DSPECs for the preparation of solar fuels based on modified semiconductor surfaces. In this area, ALD has been used to prepare core/shell structures that modify surface-interfacial electron transfer, to prepare structures that stabilize surface-bound chromophores and catalysts, and for the preparation of overlayer structures that stabilize electrodes for water oxidation and photocathodes for H-2 or CO2 reduction.
Diastereo-, Enantio-, and anti-Selective Formation of Secondary Alcohol and Quaternary Carbon Stereocenters by Cu-Catalyzed Additions of B-Substituted Allyl Nucleophiles to Carbonyls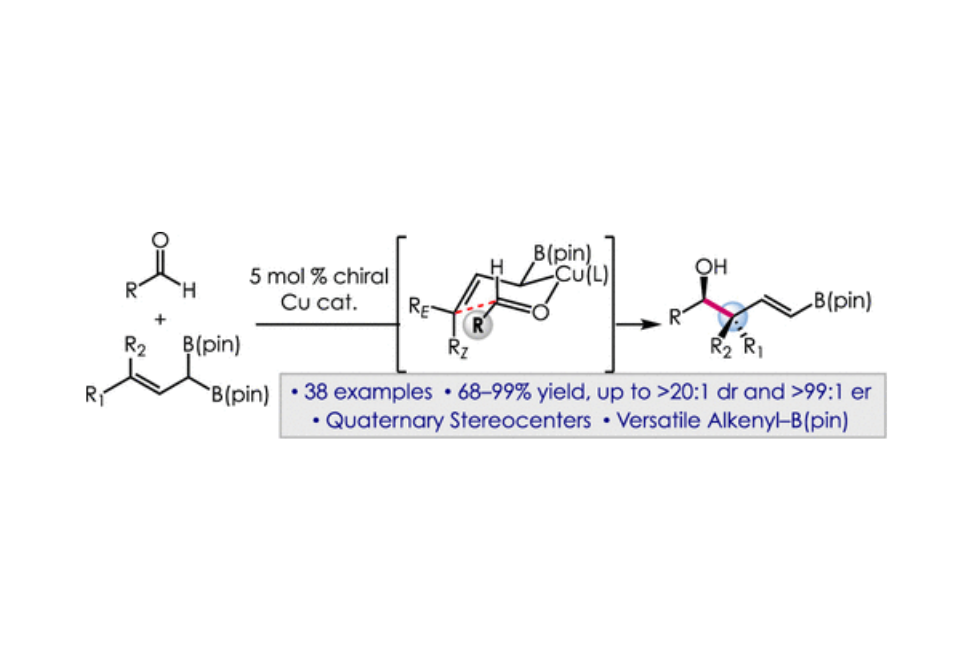 A general method for the synthesis of secondary homoallylic alcohols containing α-quaternary carbon stereogenic centers in high diastereo- and enantioselectivity (up to >20:1 dr and >99:1 er) is disclosed.
Representative Publications
Organic Letters.
.
Direct Radiofluorination of Arene C–H Bonds via Photoredox Catalysis Using a Peroxide as the Terminal Oxidant Li Wang, Alexander R. White, Wei Chen, Zhanhong Wu, David A. Nicewicz, and Zibo Li Organic Letters 2020 22 (20), 7971-7975 DOI: 10.1021/acs.orglett.0c02815 
Trends in Chemistry.
.
Application of Atomic Layer Deposition in Dye-Sensitized Photoelectrosynthesis Cells Degao Wang, Qing Huang, Weiqun Shi, Wei You, Thomas J. Meyer Trends in Chemistry 2020 3 (1), 59-71 DOI: 10.1016/j.trechm.2020.11.002
Organic Letters.
.
Diastereo-, Enantio-, and anti-Selective Formation of Secondary Alcohol and Quaternary Carbon Stereocenters by Cu-Catalyzed Additions of B-Substituted Allyl Nucleophiles to Carbonyls Emilie Wheatley, Joseph M. Zanghi, and Simon J. Meek Organic Letters 2020 22 (23), 9269-9275 DOI: 10.1021/acs.orglett.0c03495
Decarbonylative Ether Dissection by Iridium Pincer Complexes.
C. Yoo, H. M. Dodge, A. Farquhar, K. E. Gardner and A. J. M. Miller.
Chem. Sci., 2020, DOI: 10.1039/D0SC03736B
Dinitrogen Reduction to Ammonium at Rhenium Utilizing Light and Proton-Coupled Electron Transfer.
Quinton J. Bruch, Gannon P. Connor, Chun-Hsing Chen, Patrick L. Holland, James M. Mayer, Faraj Hasanayn, Alexander J. M. Miller.
J. Am. Chem. Soc. 2019, 141, 51, 20198-20208
Controlling Sugar Deoxygenation Products from Biomass by Choice of Fluoroarylborane Catalyst.
Youngran Seo, Jared M. Lowe, Michel R. Gagné.
ACS Catal. 2019, 9, 8, 6648-6652
C–H Alkylation via Multisite-Proton-Coupled Electron Transfer of an Aliphatic C–H Bond.
Carla M. Morton, Qilei Zhu, Hunter Ripberger, Ludovic Troian-Gautier, Zi S. D. Toa, Robert R. Knowles, Erik J. Alexanian.
J. Am. Chem. Soc, Online Publication Date July 29, 2019, https://doi.org/10.1021/jacs.9b06834
Harnessing the Reactivity of Poly(methylhydrosiloxane) for the Reduction and Cyclization of Biomass to High- Value Products.
Nicholas M. Hein, Youngran Seo, Stephen J. Lee, Michel R. Gagne.
Green Chemistry, Volume: 21, Issue: 10, Pages: 2662-2669