Consistently ranked as one of the top analytical programs in the United States over the past four decades, the analytical division is recognized as a world leader in this scientific area.
Following the tradition set by the late Professor Charles N. Reilley, the division extends the frontier of measurement science through a focus on fundamental studies related to chemical analysis and the development of innovative instrumentation. All traditional areas of research are represented, including electrochemistry, mass spectrometry, microscopy, sensors, separations, single cell assays, micro- and nanoscale chemical measurement devices, and spectroscopy.
Research projects span a wide range of chemical analysis science, including microvolume separations and analysis, nanomaterials, proteomics, sensors, single cell/molecule analysis, and surface analysis; for examples of active research projects please see the list below.
The division has a strong alumni base with students working across academia, industry, and national labs enabling exciting career opportunities and networking for our graduate students.
Recent Research Results
Exogenous Nitric Oxide Improves Antibiotic Susceptibility in Resistant Bacteria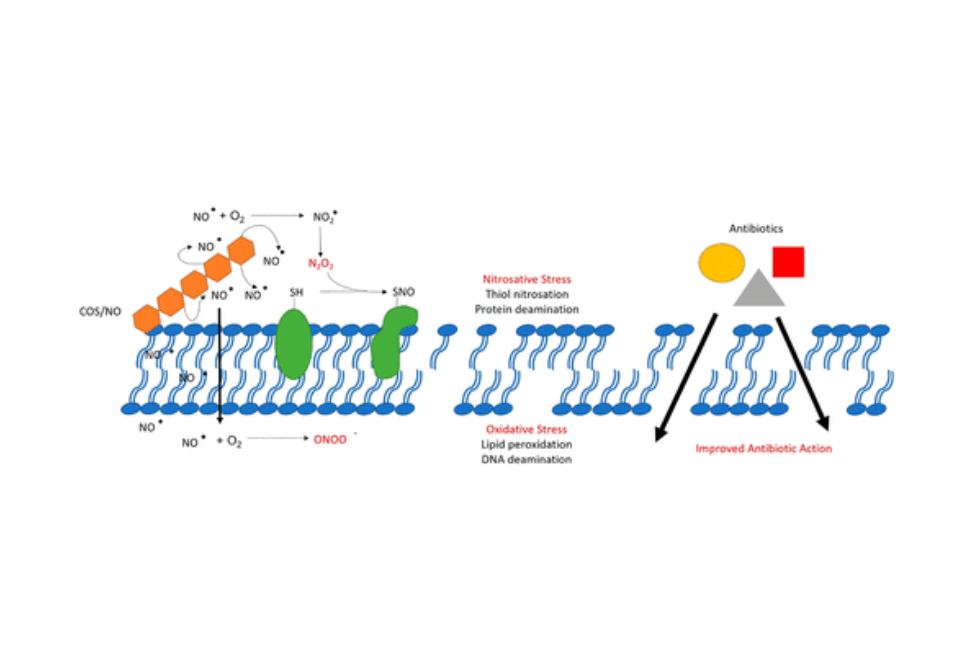 Our research group has developed nitric oxide-releasing biopolymers as alternatives to conventional antibiotics. Here, we show that nitric oxide acts as a broad-spectrum antibacterial agent while also improving the efficacy of conventional antibiotics when delivered sequentially.
mu-MIP: Molecularly Imprinted Polymer-Modified Microelectrodes for the Ultrasensitive Quantification of GenX (HFPO-DA) in River Water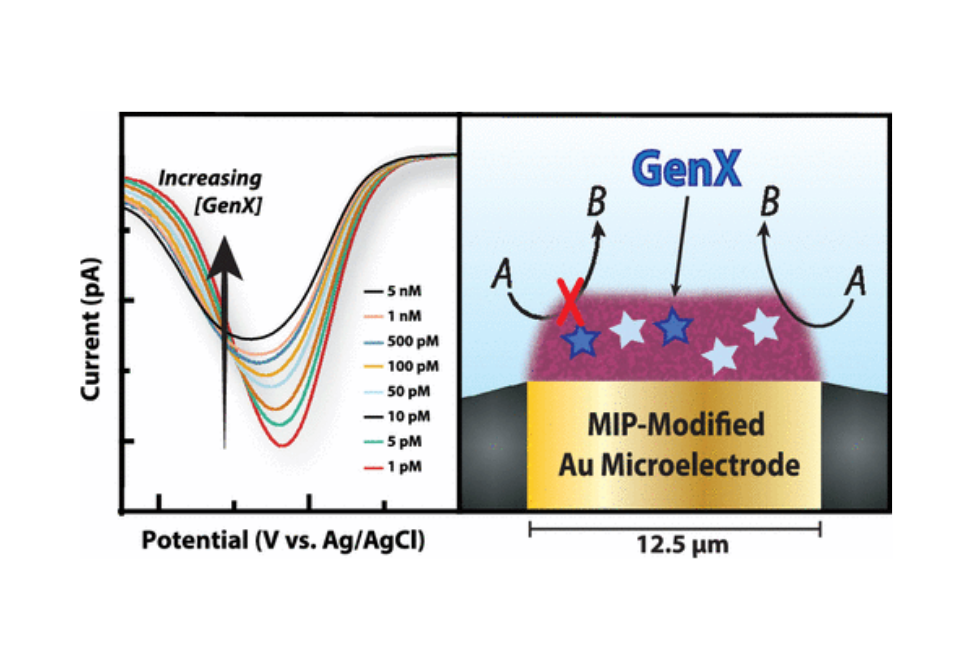 Here, we present a molecularly imprinted polymer (MIP)-modified microelectrode (r = 6.25 μm) sensor for the quantification of a pervasive environmental PFAS, GenX (HFPO-DA), in surface water obtained from the Haw River in North Carolina.
Reactive Oxygen Species, Mitochondrial Membrane Potential, and Cellular Membrane Potential Are Predictors of E-Liquid Induced Cellular Toxicity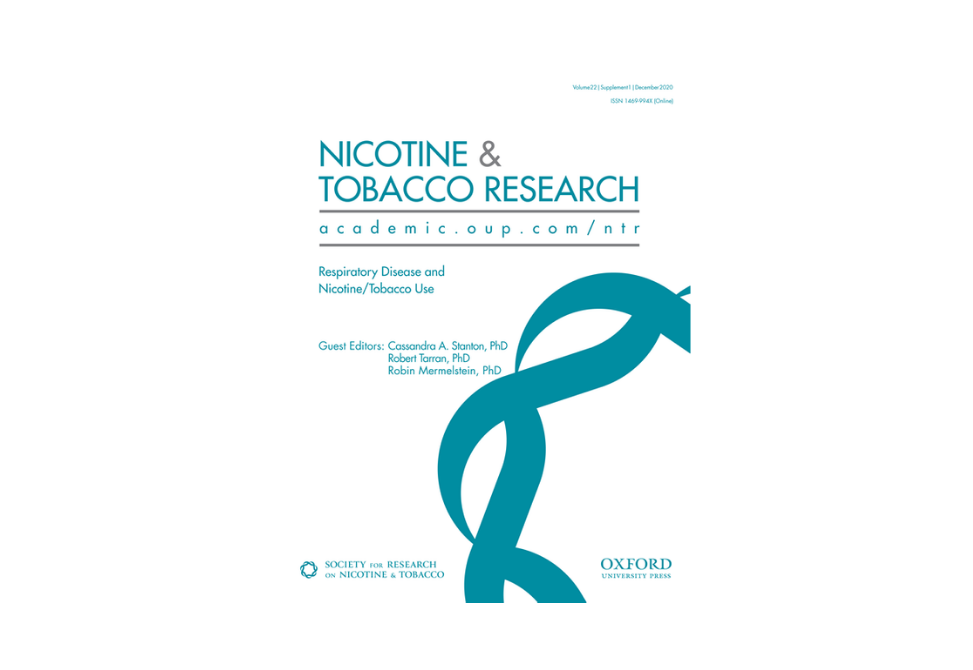 We tested e-liquids on the human cell line HEK293T and measured toxicity, mitochondria! membrane potential (Delta Psi(m)), reactive oxygen species production (ROS), and cellular membrane potential (V-m) using high-throughput screening (HTS) approaches.
Representative Publications
ACS Infectious Diseases.
.
Exogenous Nitric Oxide Improves Antibiotic Susceptibility in Resistant Bacteria Kaitlyn R. Rouillard, Olivia P. Novak, Alex M. Pistiolis, Lei Yang, Mona J. R. Ahonen, Rebecca A. McDonald, and Mark H. Schoenfisch ACS Infectious Diseases 2021 7 (1), 23-33 DOI: 10.1021/acsinfecdis.0c00337
Environmental Science & Technology Letters.
.
μ-MIP: Molecularly Imprinted Polymer-Modified Microelectrodes for the Ultrasensitive Quantification of GenX (HFPO-DA) in River Water Matthew W. Glasscott, Kathryn J. Vannoy, Rezvan Kazemi, Matthew D. Verber, and Jeffrey E. Dick Environmental Science & Technology Letters 2020 7 (7), 489-495 DOI: 10.1021/acs.estlett.0c00341
Nicotine & Tobacco Research.
.
Reactive Oxygen Species, Mitochondrial Membrane Potential, and Cellular Membrane Potential Are Predictors of E-Liquid Induced Cellular Toxicity Eva Correia-Álvarez, PhD, James E Keating, BS, Gary Glish, PhD, Robert Tarran, PhD, M Flori Sassano, PhD Nicotine & Tobacco Research 2020 22(2), S4–S13 DOI: 10.1093/ntr/ntaa177
ACS Sensors.
.
Electrochemical Sensing of Perfluorooctanesulfonate (PFOS) Using Ambient Oxygen in River Water Rebecca B. Clark and Jeffrey E. Dick ACS Sensors 2020 5 (11), 3591-3598 DOI: 10.1021/acssensors.0c01894
ACS Applied Energy Materials.
.
Enabling Aqueous NiO Photocathodes by Passivating Surface Sites That Facilitate Proton-Coupled Charge Transfer Aaron D. Taggart, Jake M. Evans, Lesheng Li, Katherine J. Lee, Jillian L. Dempsey, Yosuke Kanai, and James F. Cahoon ACS Applied Energy Materials 2020 3 (11), 10702-10713 DOI: 10.1021/acsaem.0c01751
American Journal of Respiratory Cell and Molecular Biology.
.
Cigarillos Compromise the Mucosal Barrier and Protein Expression in Airway Epithelia Sabri H. Abdelwahab, Boris Reidel, Jessica R. Martin, Arunava Ghosh, James E. Keating, Prashamsha Haridass, Jerome Carpenter, Gary L. Glish, Robert Tarran, Claire M. Doerschuk, and Mehmet Kesimer American Journal of Respiratory Cell and Molecular Biology 2020 63 (6),  767-779 DOI: 10.1165/rcmb.2019-0085OC
Analytical Chemistry.
.
Ultrasensitive Electrochemistry by Radical Annihilation Amplification in a Solid–Liquid Microgap Rezvan Kazemi, Nicole E. Tarolla, and Jeffrey E. Dick Analytical Chemistry 2020 92 (24), 16260-16266 DOI: 10.1021/acs.analchem.0c04183
ACS Infectious Diseases.
.
Pseudomonas aeruginosa Biofilm Eradication via Nitric Oxide-Releasing Cyclodextrins Kaitlyn R. Rouillard, Matthew R. Markovetz, Lawrence G. Bacudio, David B. Hill, and Mark H. Schoenfisch ACS Infectious Diseases 2020 6 (7), 1940-1950 DOI: 10.1021/acsinfecdis.0c00246
TrAC Trends in Analytical Chemistry.
.
Electrochemical sensors for the detection of fentanyl and its analogs: Foundations and recent advances Matthew W. Glasscott, Kathryn J. Vannoy, P.U. Ashvin Iresh Fernando, Gilbert K. Kosgei, Lee C. Moores, Jeffrey E. Dick TrAC Trends in Analytical Chemistry, Volume 132, 2020, 116037, ISSN 0165-9936 https://doi.org/10.1016/j.trac.2020.116037