Application Information
How to Apply
Candidates interested in graduate study in Chemistry at the University of North Carolina at Chapel Hill must complete the online application for admissions. All application materials must be uploaded and submitted through the online application and not sent to the Department of Chemistry or the Graduate School of the University of North Carolina. There is a $95 application processing fee. Application fee waiver requests are available, and the request process can be found here.
GRE Scores
There is no GRE requirement.
Biological Applicants
Students interested in Biochemistry and Chemical Biology can apply for graduate studies at UNC via Chemistry or via the Biological and Biomedical Sciences Program, the BBSP. Candidates should apply for either the Chemistry program or BBSP, but not to both. The deadline for applying to the BBSP can be found here.
Master's Degree Applicants
Candidates interested in Master's level study should confirm with the Chemistry Student Services that they have their own funding before they apply online. We will provide further instructions once this is established.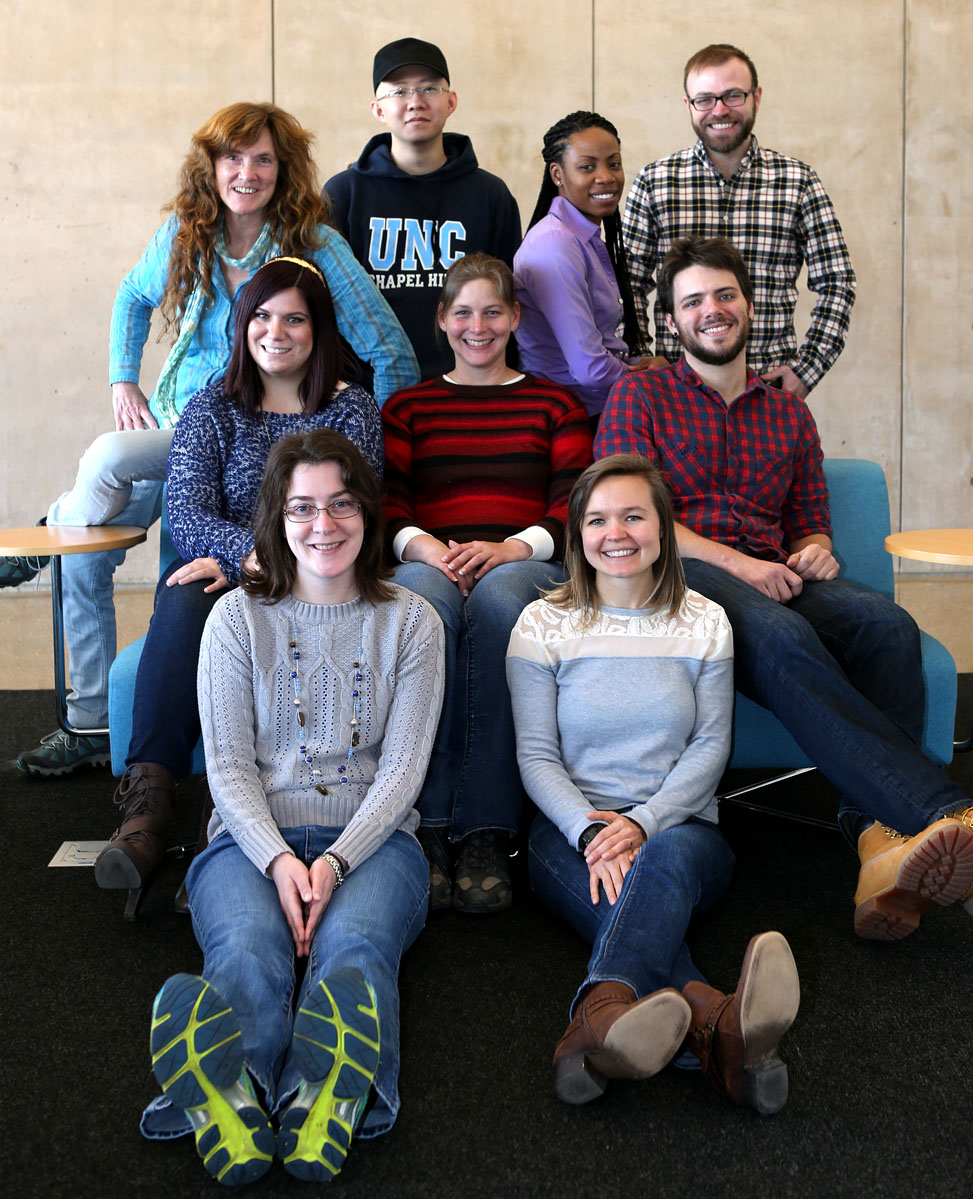 Professor Dorothy Erie's research group.
Admission Information and Timeline for Prospective Applicants
Graduate School Requirements
Prior to proceeding through the sections describing the Chemistry Department's requirements, carefully read the information available through the Graduate School Instructions, describing the Graduate School's admission requirements.
Transcripts
Unofficial copies of your academic transcripts must be uploaded to the online application. Additionally, if you gain acceptance and accept the offer of admission, an official copy of your transcript(s) must be sent directly to the Chemistry Department and the Graduate School. For more information please contact the Chemistry Student Services.
Letters of Recommendation
We require three letters of recommendation, one of which must come from your Undergraduate Research Advisor or an immediate supervisor if you are currently working in industry. The other letters should come from faculty in the sciences or math, or professional scientists in whose lab you have worked. Applicants are required to provide information about their three recommenders, such as their email addresses, via the online Graduate School application for admission. Each recommender will receive an email with a username/password and the link to the recommendation site. Here they will type the recommendation letter or attach a .doc or .pdf file.
Statement of Purpose
The statement should indicate your motivation for pursuing graduate studies at UNC-Chapel Hill, and include some specific details on the research area(s) and/or faculty members that you are most interested in. Please also describe your commitment to or efforts in promoting Diversity, Equity, and Inclusion. Generic statements of interest in chemistry are discouraged.
Statement of Research Experience
A description of your research experience, one page maximum, is required. The description should include the current and/or previous research labs in which you have worked and any authored publications. The statement should be uploaded to the online application under "Supplemental Documents" and cannot be substituted with a resume or CV.
Financial Certificate and TOEFL – International Applicants Only
As required by the Graduate School and United States immigration laws, international students must complete a Financial Certificate. The financial certificate is only required if you gain admission to our program. The certificate must be uploaded to the online application with any supporting financial documents. The certificate must be completed even if you are offered a departmental RA/TA position. Do not send originals to the Chemistry department or to the Graduate School.
Test of English as a Foreign Language, TOEFL – International Applicants Only
All international student applicants must submit official TOEFL or IELTS scores for your application to be complete. For information on the minimum scores required for admission, waiver of TOEFL/IELTS requirements, and how to submit your scores please visit the Graduate School's website.
Chemistry Department Application Deadlines
Evaluation of completed applications will begin in early January and continue through March until all available positions have been filled. All other applicants should apply as soon as possible, but no later than December 14 for financial support.
Graduate Admissions Timeline
December 1
PRIORITY DEADLINE for the Department of Chemistry. Applications received by this date will receive priority consideration for departmental financial support, and will enjoy full internal fellowship eligibility.
December 14
Applications must be received by this date to be considered for a Graduate School award. These awards are not funded by the Chemistry department and for more information on the available awards please visit the Graduate School's website. Late applications can be considered, but financial support cannot be guaranteed.
March 1
Department of Chemistry domestic admission decisions are made.
Feb. 18–19, 2022 and Mar. 11-12, 2022
Department of Chemistry visitation weekends for those offered admission.
April 15 
Deadline for students to accept or decline offers of admission.
Visiting our Department
If you are accepted to our program, you will receive an invitation to visit the department soon after you receive the Chemistry Department acceptance letter. Students are strongly encouraged to visit during one of our Visitation Weekends, arriving Friday afternoon, departing Sunday. The purpose of these weekends is to acquaint you with our program, including our faculty, graduate students, and research facilities.
You will also have a chance to tour campus and the town of Chapel Hill during your visit. A distinct advantage to visiting on one of these two weekends is that a majority of the faculty will be in town. We encourage you to combine your visit to our department with visits to other schools if possible to reduce the cost of your trip for everyone.
The Department of Chemistry supports the University's core values, encouraging diversity and equal educational and employment opportunities throughout the University community. These values are articulated in the University's non-discrimination policy and by the office of Diversity and Multicultural Affairs.