Graduate students in the Division meld molecular and structural biology with physical, organic and analytical chemistry to understand the molecular basis of biological processes and human disease. Research in the Biological Division focuses on the structure, stability and function of proteins, membranes, DNA, RNA, macromolecular complexes and viruses, natural product biogenesis, synthetic biology, and genomics.
Students are a constant source of new hypotheses for mechanisms underlying cellular machines like the ribosome, spliceosome, and as well as protein and RNA folding. Students tackle these problems using biochemical methods, chemical biosensor technologies, protein and nucleic acid crystallography, in vitro and in vivo evolution, multi-dimensional NMR spectroscopy, surface chemistry, atomic-force microscopy, fluorescence spectroscopy, and high-resolution mass spectrometry.
Doctoral students in our Divsion leave the Department broadly trained for leadership roles in academia and industry.
Recent Research Results
Mismatched covalent and noncovalent templating leads to large coiled coil-templated macrocycles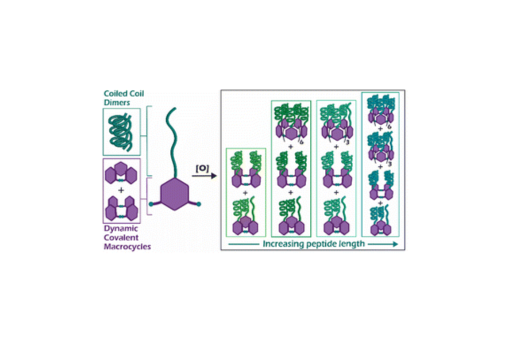 Herein we describe the use of dynamic combinatorial chemistry to self-assemble complex coiled coil motifs. We amide-coupled a series of peptides designed to form homodimeric coiled coils with 3,5-dithiobenzoic acid (B) at the N-terminus and then allowed each B-peptide to undergo disulfide exchange.
Representative Publications