Inorganic chemistry is a discipline that spans areas ranging from materials chemistry to organic synthesis and on to broad problems in energy. The Inorganic Division at the University of North Carolina ranks among the top ten nationally and has been a major strength of the Chemistry Department for decades.
Graduate students in the Inorganic Division are exposed to an exciting research environment, cutting-edge characterization and catalysis facilities, an exciting educational curriculum, and a collegial mentoring environment, all of which together provide an excellent foundation for future careers in industry and academia.
The Inorganic Division is deeply involved in several overarching departmental themes. Catalysis is a particularly prominent research area at UNC, with ongoing activities involving the synthesis of complexes for a broad range of homogeneous catalysis applications – energy, biomass remediation, small molecule synthesis, site-selective activation, asymmetric catalysis, and polymerization – and the exploitation of transition metal complexes in photocatalytic water splitting and carbon dioxide reduction and for applications in biotechnology.
Functional materials chemistry is another strength at UNC, with highly visible research activities in solar fuels, nanoparticles/quantum dots, and photovoltaics.
Recent Research Results
Catalytic Dehydrogenation of Alkanes by PCP-Pincer Iridium Complexes Using Proton and Electron Acceptors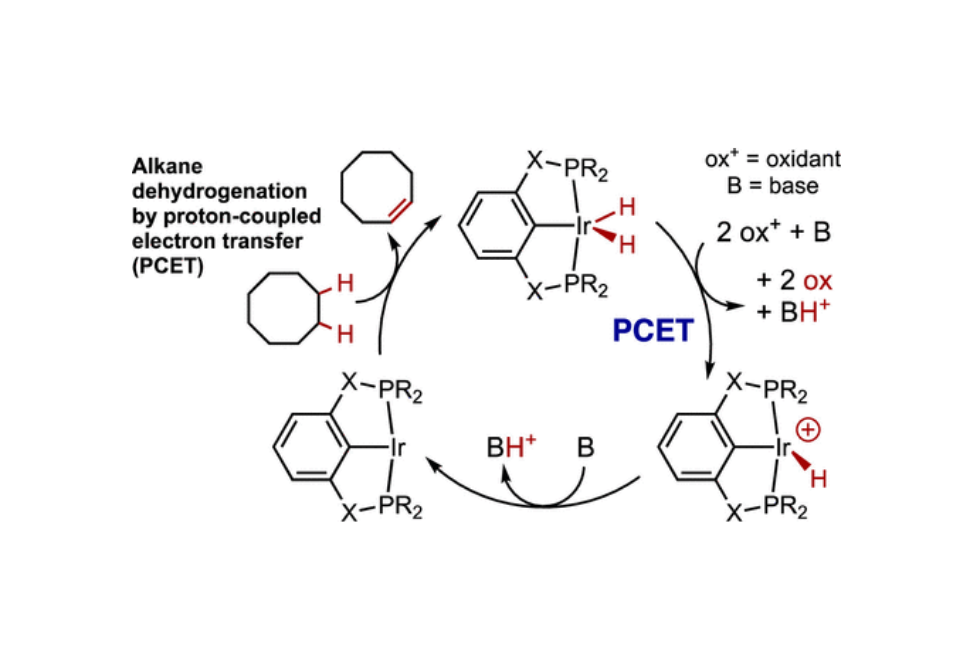 Here, we report the use of pincer-ligated iridium complexes to achieve alkane dehydrogenation by proton-coupled electron transfer, using pairs of oxidants and bases as proton and electron acceptors.
Role of Axial Ligation in Gating the Reactivity of Dimethylplatinum(III) Diimine Radical Cations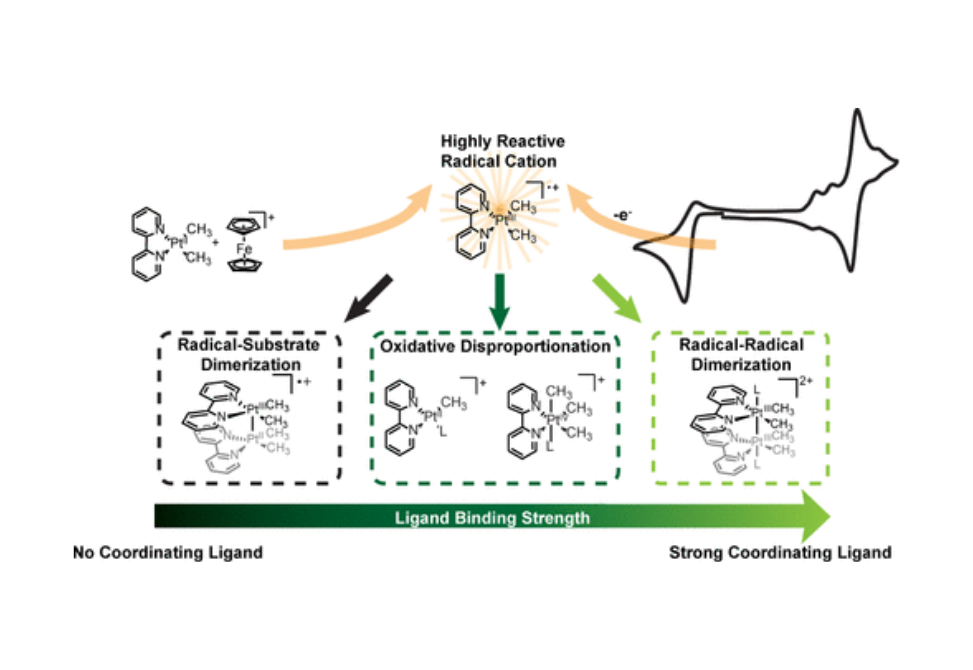 Through this mechanistic analysis, we show that the one-electron oxidation of (bpy)PtII(CH3)2 generates a highly reactive, 15-electron PtIII radical cation and identify three reaction pathways that can follow this oxidation: radical–substrate dimerization, radical–radical dimerization, and oxidative disproportionation.
Redox-Induced Structural Reorganization Dictates Kinetics of Cobalt(III) Hydride Formation via Proton-Coupled Electron Transfer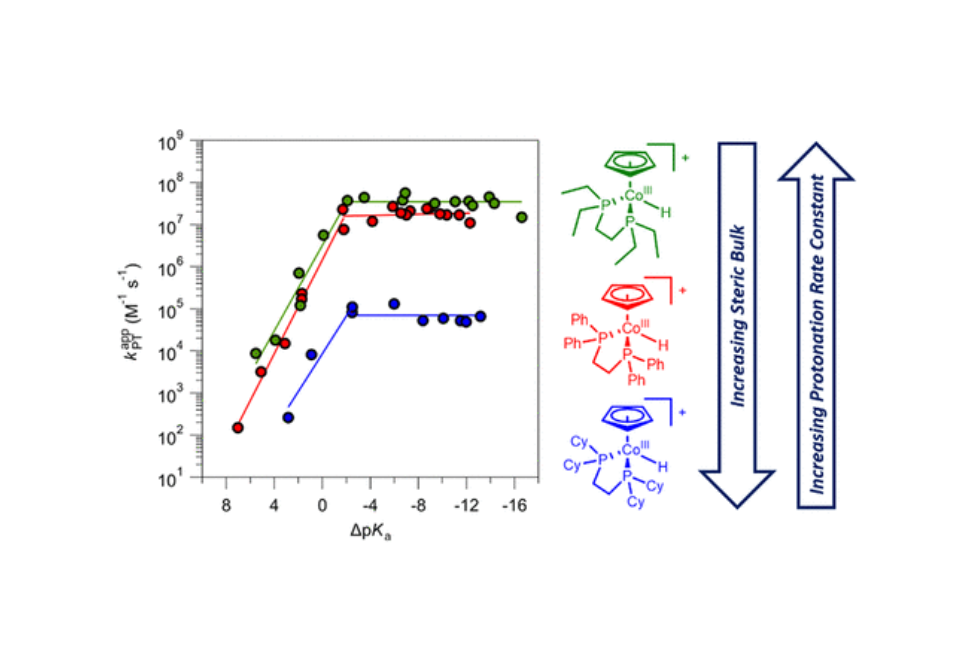 These experiments reveal the details of the reaction mechanism: reduction of the Co(III) species is followed by dissociation of the bound acetonitrile ligand, subsequent reduction of the unligated Co(II) species to form a Co(I) species is followed by protonation, which occurs at the Cp ring, followed by tautomerization to generate the stable Co(III)-hydride product [HCoCp(dxpe)]+.
Representative Publications
ACS Catalysis.
.
Catalytic Dehydrogenation of Alkanes by PCP–Pincer Iridium Complexes Using Proton and Electron Acceptors Arun Dixith Reddy Shada, Alexander J. M. Miller, Thomas J. Emge, and Alan S. Goldman ACS Catalysis 2021 11 (5), 3009-3016 DOI: 10.1021/acscatal.0c05160
Organometallics.
.
Role of Axial Ligation in Gating the Reactivity of Dimethylplatinum(III) Diimine Radical Cations Brittany L. Huffman, Katherine J. Lee, Ana M. Geer, Bradley A. McKeown, Xiaofan Jia, Diane A. Dickie, T. Brent Gunnoe, and Jillian L. Dempsey Organometallics 2021 40 (3), 333-345 DOI: 10.1021/acs.organomet.0c00663
Journal of the American Chemical Society.
.
Redox-Induced Structural Reorganization Dictates Kinetics of Cobalt(III) Hydride Formation via Proton-Coupled Electron Transfer Daniel A. Kurtz, Debanjan Dhar, Noémie Elgrishi, Banu Kandemir, Sean F. McWilliams, William C. Howland, Chun-Hsing Chen, and Jillian L. Dempsey Journal of the American Chemical Society 2021 143 (9), 3393-3406 DOI: 10.1021/jacs.0c11992
Journal of the American Chemical Society.
.
Temperature and Solvent Effects on H2 Splitting and Hydricity: Ramifications on CO2 Hydrogenation by a Rhenium Pincer Catalyst Jenny Hu, Quinton J. Bruch, and Alexander J. M. Miller Journal of the American Chemical Society 2021 143 (2), 945-954 DOI: 10.1021/jacs.0c11110
Journal of the American Chemical Society.
.
Molecular-Level Insight into Semiconductor Nanocrystal Surfaces Carolyn L. Hartley, Melody L. Kessler, and Jillian L. Dempsey Journal of the American Chemical Society 2021 143 (3), 1251-1266 DOI: 10.1021/jacs.0c10658
ACS Catalysis.
.
Identifying and Evading Olefin Isomerization Catalyst Deactivation Pathways Resulting from Ion-Tunable Hemilability Henry M. Dodge, Matthew R. Kita, Chun-Hsing Chen, and Alexander J. M. Miller ACS Catalysis 2020 10 (21), 13019-13030 DOI: 10.1021/acscatal.0c03784
The Journal of Physical Chemistry.
.
Tunneling and Thermally Activated Electron Transfer in Dye-Sensitized SnO2|TiO2 Core|Shell Nanostructures Rachel E. Bangle, Michael J. Mortelliti, Ludovic Troian-Gautier, Jillian L. Dempsey, and Gerald J. Meyer The Journal of Physical Chemistry C 2020 124 (45), 25148-25159 DOI: 10.1021/acs.jpcc.0c08200
Proton-Coupled Electron Transfer Kinetics for the Photoinduced Generation of a Cobalt(III)-Hydride Complex.
Kurtz, Daniel A., Dempsey, Jillian L..
Inorg. Chem. 2019, 58, 24, 16510-16517
Delayed Photoacidity Produced through the Triplet–Triplet Annihilation of a Neutral Pyranine Derivative.
J. Christian Lennox, Evgeny O. Danilov, Jillian L. Dempsey.
Phys. Chem. Chem. Phys., 2019, 21, 16353-16358