Master of Art, Non-Thesis
Master's Program
The master's program in chemistry provides students with additional exposure to advanced topics in chemistry relative to an undergraduate degree, as well as opportunities to strengthen oral and written communications skills. Only under special circumstances are applicants admitted directly to the master's program, please contact Student Services with questions about enrolling directly into a master's program.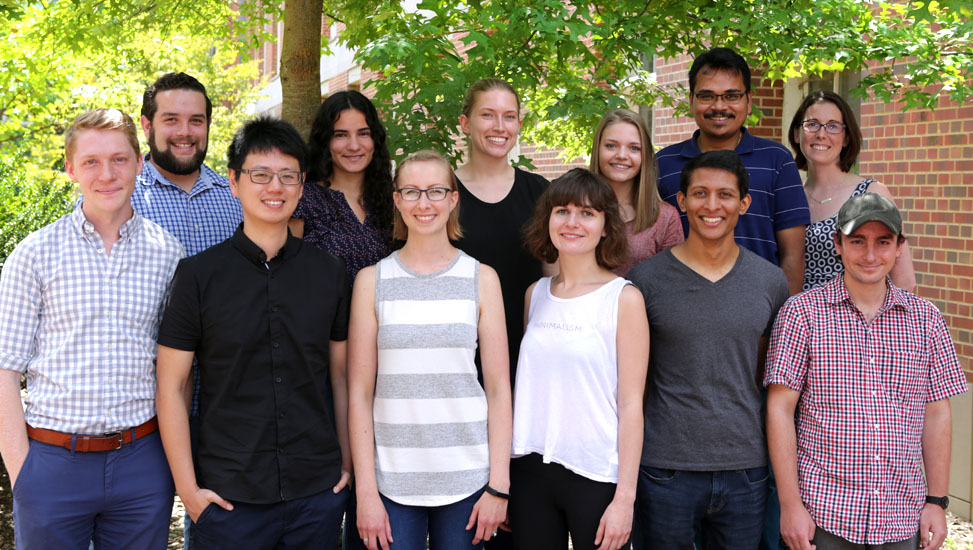 Professor Jillian Dempsey and her research group
REQUIREMENTS FOR MASTER OF ARTS DEGREE
1. COURSE PROGRAM
The Master of Arts (MA) degree requires a minimum of 30 credit hours. A typical path to degree completion is 18 hours of advanced chemistry courses and 12 hours in seminar courses and thesis registration (only six hours of CHEM 992 can count towards the 30-hour requirement). Students must accrue a total of at least two semesters of "full time" status based on UNC Chapel Hill course registration (9 hours in one semester is full-time, 6-8 hours is half-time, 3-5 hours is quarter-time). Students must be registered for 3 hours of CHEM 992 in the semester in which the MA Written Report is completed and the degree will be conferred. A list of graduate courses can be viewed HERE.
2. M.A. WRITTEN EXAMINATION
The M.A. written examination is a written report on the current state of research in an area or topic that is relevant to a departmental research topic. This is typically the introduction or background section of the 2nd year examination Research Summary, but it can also be a separate literature review. The report is submitted to and approved/signed by research advisor.
3. APPLICATION FOR DEGREE
When an M.A. candidate nears the end of research and can anticipate final approval of the thesis, he/she should formally apply for a degree for the next commencement according to the deadline listed in the Registrar's Calendar.
Forms are available on-line at the Graduate School and in the Chemistry Student Services Office. The "Approved Substitute" form should be filled out, giving an example of an oral presentation (group meeting, graduate course presentation, etc) and describing the M.A Written Examination described directly above. All degree requirements should be reviewed at this time.
4. WRITTEN REPORT FOR M.A. (NO THESIS REQUIRED)
A written report on a chemical research topic shall be submitted and approved/signed by the faculty advisor. This is typically, but not always, the results and discussion section of the 2nd year examination Research Summary. The written report should be submitted and approved at least two weeks prior to commencement, followed by notification of the Chemistry Student Services Office.