Polymer/Materials Research
Many challenging problems in the modern science and technology are related to preparation, properties, and utilization of novel functional materials. The polymer chemistry and the chemical microelectronics programs represent parts of the multidisciplinary effort in this field. The many-pronged approach includes: synthesis and molecular characterization of well-defined block and graft copolymers; preparation of new engineering thermoplastics and liquid crystalline materials; synthesis, modification and processing of polymers in super-critical carbon dioxide; chemical design of hybrid polymers for catalysis and photoredox activity, polymers for microelectronics applications including 193 nm and 157 nm photoresists and low-k dielectrics, and defined microstructures.
Research projects span a wide range of chemical analysis science and include, but are not limited to, biosensors, nanoscopic materials, neurochemistry, microvolume separations and analysis, protein adsorption, supercritical fluids and single-molecule analysis; for examples of currently active research projects please see the list below. The division has strong relationships with a large number of companies in the pharmaceutical, chemical and scientific instrumentation industries, which provide continued support of research fellowships and the Analytical Seminar series.
Recent Research Results
Functionalization of Benzotriazole-Based Conjugated Polymers for Solar Cells: Heteroatom vs Substituents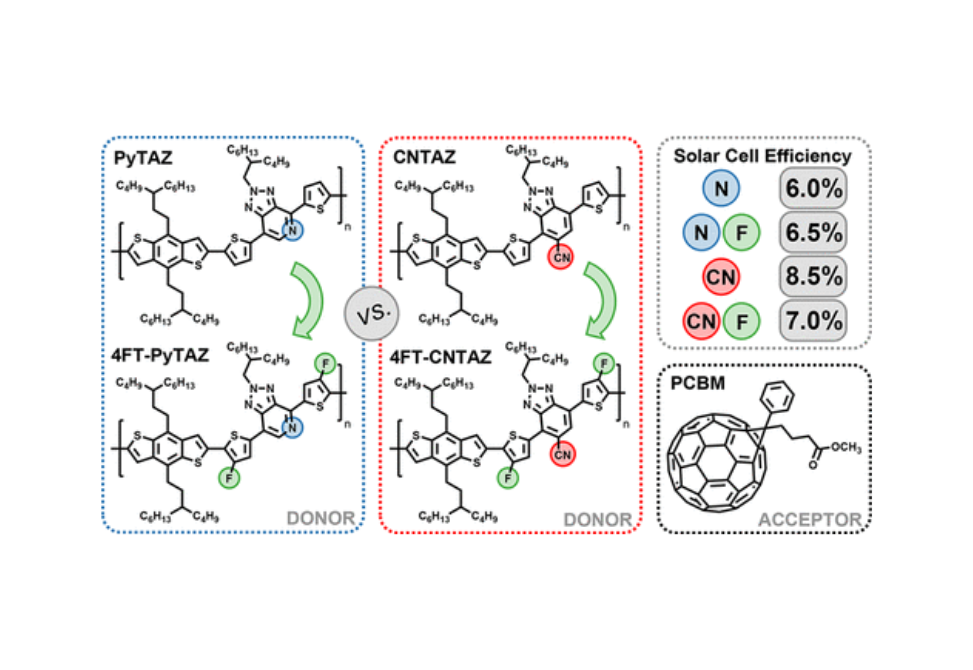 In this study, we systematically explore the impact of a variety of functional groups, including nitrogen heteroatoms, fluorine substituents, and cyano groups, on benzotriazole (TAZ)-based acceptor moieties that are incorporated into the conjugated polymers.
Independently Tuning Elastomer Softness and Firmness by Incorporating Side Chain Mixtures into Bottlebrush Network Strands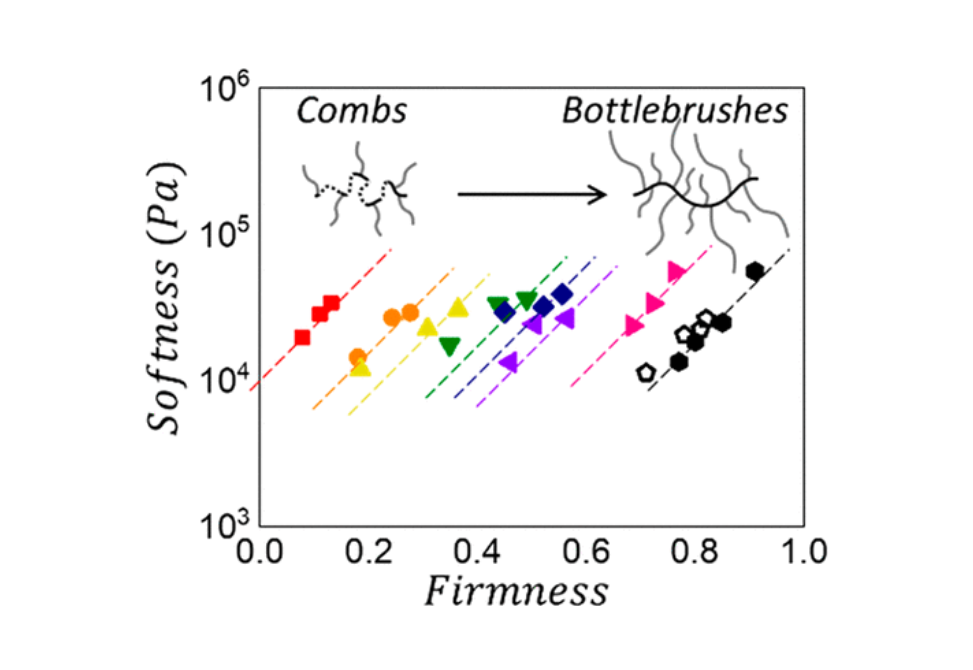 We explore a hierarchical bottom-up approach via architectural modulation of bottlebrush mesoblocks followed by their self-assembly into linear–brush–linear triblock copolymer networks.
Representative Publications
ACS Applied Polymer Materials.
.
Functionalization of Benzotriazole-Based Conjugated Polymers for Solar Cells: Heteroatom vs Substituents Jeromy James Rech, Liang Yan, Zhen Wang, Qianqian Zhang, Spencer Bradshaw, Harald Ade, and Wei You ACS Applied Polymer Materials 2021 3 (1), 30-41 DOI: 10.1021/acsapm.0c00761
Macromolecules.
.
Independently Tuning Elastomer Softness and Firmness by Incorporating Side Chain Mixtures into Bottlebrush Network Strands Andrew N. Keith, Charles Clair, Abdelaziz Lallam, Egor A. Bersenev, Dimitri A. Ivanov, Yuan Tian, Andrey V. Dobrynin, and Sergei S. Sheiko Macromolecules 2020 53 (21), 9306-9312 DOI: 10.1021/acs.macromol.0c01725
Macromolecules.
.
Degradation of Block Copolymer Films Confined in Elastic Media: Molecular Dynamics Simulations Ryan Sayko, Zilu Wang, Heyi Liang, Matthew L. Becker, and Andrey V. Dobrynin Macromolecules 2020 53 (21), 9460-9469 DOI: 10.1021/acs.macromol.0c01795
Polymers.
.
Aggregation Controlled Charge Generation in Fullerene Based Bulk Heterojunction Polymer Solar Cells: Effect of Additive Washat Ware, Tia Wright, Yimin Mao, Shubo Han, Jessa Guffie, Evgeny O. Danilov, Jeromy Rech, Wei You, Zhiping Luo, Bhoj Gautam Polymers 2021 13(115), 2073-4360 DOI: 10.3390/polym13010115
Macromolecules.
.
Understanding the Synthesis of Linear–Bottlebrush–Linear Block Copolymers: Toward Plastomers with Well-Defined Mechanical Properties Yidan Cong, Mohammad Vatankhah-Varnosfaderani, Vahid Karimkhani, Andrew N. Keith, Frank A. Leibfarth, Michael R. Martinez, Krzysztof Matyjaszewski, and Sergei S. Sheiko Macromolecules 2020 53 (19), 8324-8332 DOI: 10.1021/acs.macromol.0c01083
ACS Applied Polymer Materials.
.
Organic Solar Cells with Large Insensitivity to Donor Polymer Molar Mass across All Acceptor Classes Stephanie Samson, Jeromy Rech, Lorena Perdigón-Toro, Zhengxing Peng, Safa Shoaee, Harald Ade, Dieter Neher, Martin Stolterfoht, and Wei You ACS Applied Polymer Materials 2020 2 (11), 5300-5308 DOI: 10.1021/acsapm.0c01041
Polymers.
.
Synthesis, Structure, Hydrodynamics and Thermoresponsiveness of Graft Copolymer with Aromatic Polyester Backbone at Poly(2-isopropyl-2-oxazoline) Side Chains Elena Tarabukina, Emil Fatullaev, Anna Krasova, Mikhail Kurlykin, Andrey Tenkovtsev, Sergei S. Sheiko, Alexander Filippov Polymers 2020, 12, 2643 DOI: 10.3390/polym12112643
ACS Macro Letters.
.
100th Anniversary of Macromolecular Science Viewpoint: The Past, Present, and Future of Stereocontrolled Vinyl Polymerization Aaron J. Teator, Travis P. Varner, Phil C. Knutson, Cole C. Sorensen, and Frank A. Leibfarth ACS Macro Letters 2020 9 (11), 1638-1654 DOI: 10.1021/acsmacrolett.0c00664