Polymer/Materials Research
Critical problems in modern science and technology hinge on the preparation, properties and utilization of novel functional materials. The polymer/material program represents a multidisciplinary effort to advance the frontiers of hard and soft materials. Soft matter research encompasses several key directions: (1) development of methodology that enables precise synthesis, modification, and degradation of polymers, (2) sustainability of polymeric materials, (3) experimental illumination and theoretical prediction of structure-property relationships in polymeric materials and (4) fabrication of devices. Materials of interest span the gamut of architectures, compositions and applications: from bottlebrush-polymer elastomers that mimic the mechanics of biological tissue and hydrogels for sequestration of perfluorinated organics, to polyelectrolytes for battery applications and conjugated polymers for plastic photonics and electronics. Hard matter research encompasses (1) exploration of new nanomaterials and nanogeometries, (2) fundamental science of 2-D materials, (3) applications in sustainability, including development of photovoltaic devices and solar fuels and (4) development of next-generation electronics. Materials of interest range from segmented silicon nanowires to 2-D nanosheets.
Research in our division is highly collaborative and often takes place at the hard/soft interface. Students also have an opportunity to conduct research in collaboration with the Center for Hybrid Approaches in Solar Energy to Liquid Fuels (CHASE), a DOE Energy Innovation Hub headquartered in our department. Researchers can take advantage of state-of-the-art facilities—CRITCL and CHANL—which are run by expert PhD staff and house our NMR spectroscopy, mass spectrometry, X-ray crystallography, microscopy and many other characterization and nanofabrication tools.
Recent Research Results
Thermocleavage of Partial Side Chains in Polythiophenes Offers Appreciable Photovoltaic Efficiency and Significant Morphological Stability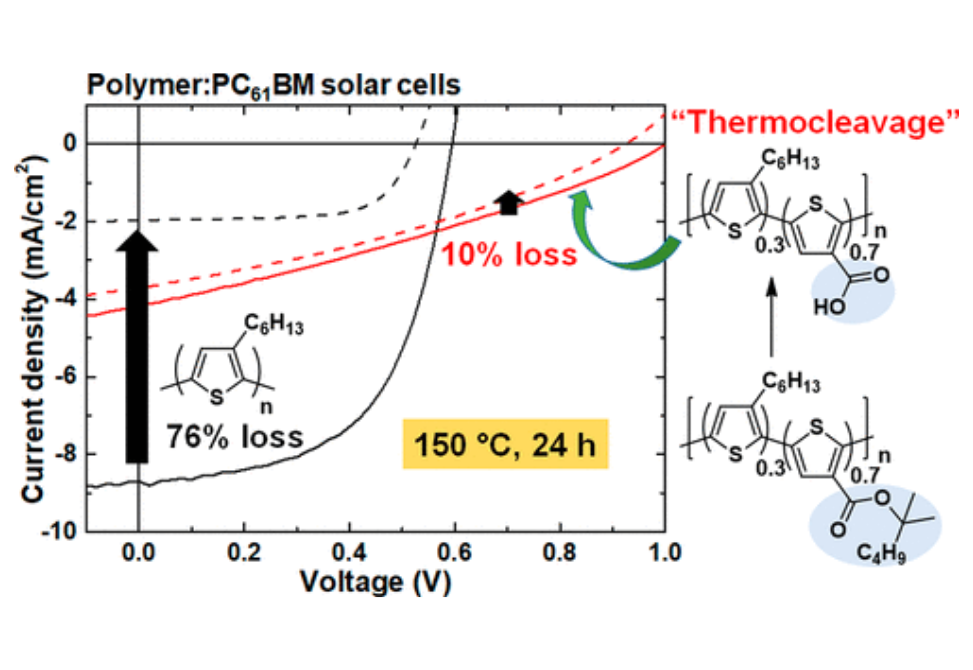 We explore a series of regioregular polythiophenes having TCSs and hexyl side chains by varying the ratio of different side chains, from 0 mol % TCSs to 100 mol % TCSs at an increment of 20 mol %.
It Is Good to Be Flexible: Energy Transport Facilitated by Conformational Fluctuations in Light-Harvesting Polymers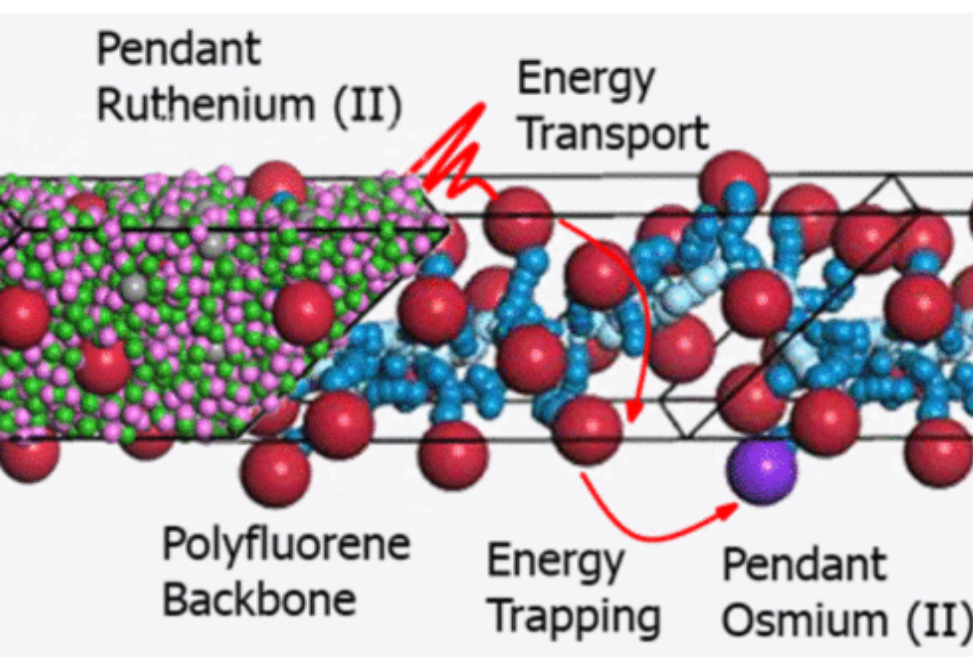 We investigate the mechanism of energy transfer between ruthenium(II) (Ru) and osmium(II) (Os) polypyridyl complexes affixed to a polyfluorene backbone (PF-RuOs) using a combination of time-resolved emission spectroscopy and coarse-grained molecular dynamics (CG MD).
Representative Publications
ACS The Journal of Physical Chemistry.
.

Macromolecules.
.
Scaling of Polymer Solutions as a Quantitative Tool Andrey V. Dobrynin, Michael Jacobs, and Ryan Sayko Macromolecules 2021 54 (5), 2288-2295 DOI: 10.1021/acs.macromol.0c02810
Macromolecules.
.
When Do Polyelectrolytes Entangle? Andrey V. Dobrynin and Michael Jacobs Macromolecules 2021 54 (4), 1859-1869 DOI: 10.1021/acs.macromol.0c02450
Macromolecules.
.
Bottlebrushes and Combs with Bimodal Distribution of the Side Chains: Diagram of States and Scattering Function Haley Starvaggi, Yuan Tian, Heyi Liang, and Andrey V. Dobrynin Macromolecules 2021 54 (4), 1818-1828 DOI: 10.1021/acs.macromol.0c02610
Macromolecules.
.
Deformation Model of Chains and Networks with Extendable Bonds Michael Jacobs and Andrey V. Dobrynin Macromolecules 2020 53 (24), 10874-10881 DOI: 10.1021/acs.macromol.0c02114
ACS Applied Polymer Materials.
.
Functionalization of Benzotriazole-Based Conjugated Polymers for Solar Cells: Heteroatom vs Substituents Jeromy James Rech, Liang Yan, Zhen Wang, Qianqian Zhang, Spencer Bradshaw, Harald Ade, and Wei You ACS Applied Polymer Materials 2021 3 (1), 30-41 DOI: 10.1021/acsapm.0c00761