Diversity, Equity, and Inclusion at the Department of Chemistry
At the Department of Chemistry, we feel strongly that diversity, equity, and inclusion are crucial to our pursuit of academic excellence, and we are deeply committed to creating a diverse and inclusive community.
Diversity, Equity, and Inclusion
The Department of Chemistry fully supports UNC's policies of inclusivity as described in the University Office of Diversity and Inclusion. We recognize the importance of building a diverse and inclusive community together as described in Chancellor Guskiewicz's vision: "Carolina is taking actions that speak for our intentions. We will work together to create and sustain the kind of community where all feel welcomed, respected and free to pursue their goals and dreams. We are committed to coordinated processes and programs that celebrate all forms of diversity and build upon Carolina's equitable and inclusive learning environment."
Chemistry Diversity Committee
The UNC Department of Chemistry fully supports UNC's policy, which states that "the University of North Carolina at Chapel Hill is committed to equality of opportunity and pledges that it will not practice or permit discrimination in employment on the basis of race, color, gender, national origin, age, religion, creed, disability, veteran's status, sexual orientation, gender identity or gender expression."
The UNC Department of Chemistry Diversity Committee is comprised of undergraduate and graduate students, post-doctoral associates, faculty, and staff. The goals for enhancing diversity, promoting an inclusive research and learning environment, and ensuring an equitable chance at success for all who grace our Department are, therefore, to:
Enhance the present culture of diversity by recruiting faculty, staff, postdoctoral researchers, graduate students and undergraduate students that enhance the ethnic, identity, racial, and socioeconomic diversity that is representative of the global research community and workforce.
Sustain a culture of inclusiveness that emphasizes mutual respect, fairness, and accountability regardless of ethnicity, gender, national origin, race, religion, sexual orientation, disability, age, rank, or position of authority.
Departmental Initiatives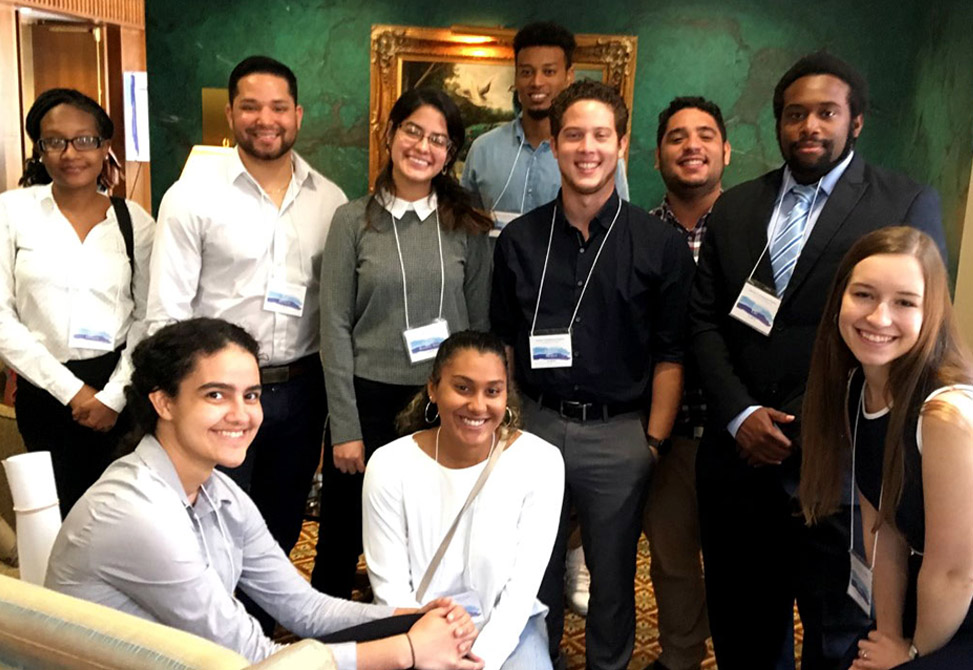 A National Science Foundation supported research experiences for undergraduates, REU, program titled 'SUROC' enables undergraduate students from outside UNC to engage in world-class research for a 10 week period. This is an opportunity to experience Carolina Chemistry, recognized by ACS as one of the top ten graduate programs in any of our five divisions: Analytical, Biological, Inorganic, Organic, Physical, or Polymer/Materials.
A small cohort of students work together to build a strong scholarly foundation through weekly professional development experiences. Now in its fifth year, the SUROC program provides additional opportunities outside of laboratory research that include site visits to large pharmaceutical and small startup companies; introduction to scientific entrepreneurship; experience presenting scientific research; training in research ethics; and exposure to chemical equipment and facilities. A variety of no-cost social activities and weekend adventures allow exploration of the Triangle Area of NC.
The Tommie and Billie Hinton Undergraduate Research Fellowship provides support for undergraduate chemistry majors to conduct faculty-mentored summer research to support the development of gender equality, diversity and inclusiveness within the chemistry department.
The Todd and Sherri Elder Undergraduate Research Fund in Chemistry provides support for undergraduate chemistry majors to conduct faculty-mentored summer research to support the development of gender equality, diversity and inclusiveness within the chemistry department.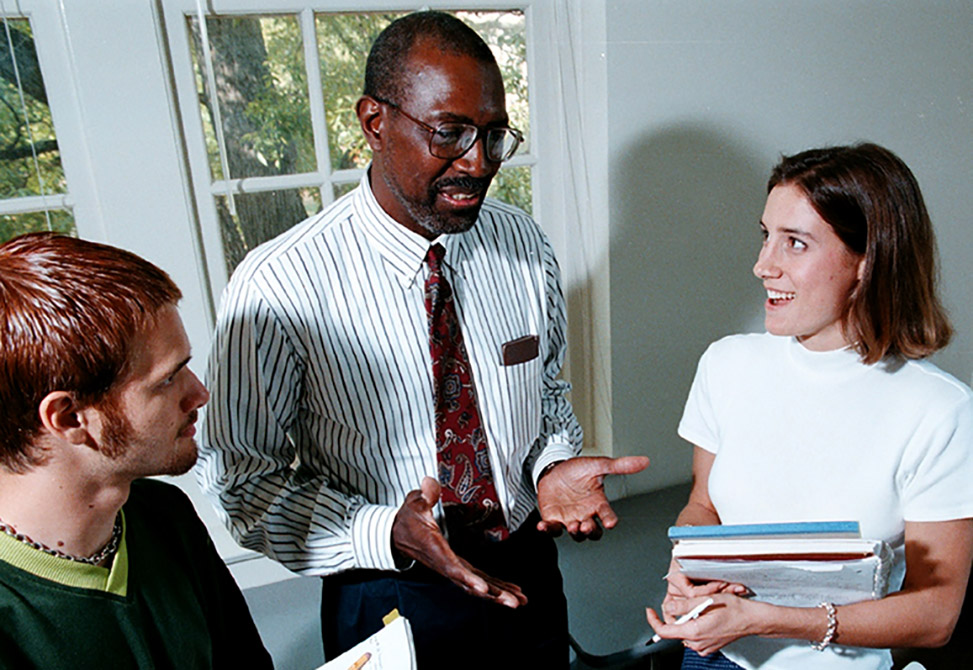 Professor Slayton Evans joined UNC Chapel Hill as an assistant professor in 1974, becoming the first Black chemist in the Department's now 200-year history. Professor Evans had a long and successful career at UNC Chapel Hill. He rose to the rank of Professor in only 10 years and established a legacy of excellence in both mentoring and science. His scientific contributions focused on organophosphorus chemistry, especially for asymmetric synthesis and conformational analysis.
Professor Evans was also known as an excellent mentor who was deeply committed to recruiting and championing minority students. He strived to make complex subjects accessible to undergraduates and relished one-on-one mentoring relationships with undergraduate and graduate students alike. Professor Evans passed away in 2001 at the age of 58. The Slayton Evans Memorial Lecture now recalls his legacy with an invited lecture by a preeminent and internationally renowned scientist. The Lecture is coupled with an outreach program that brings undergraduate students from traditionally underrepresented backgrounds to UNC for the day. This annual event, along with the lasting influence he had on science, his trainees, and his colleagues, has kept the remarkable life and legacy of Professor Evans shining bright.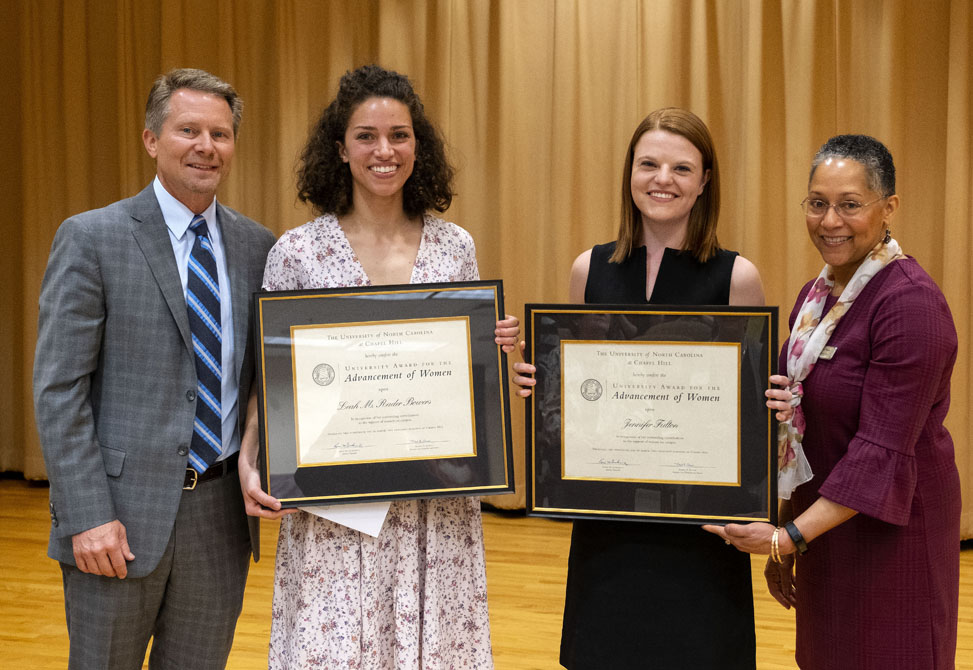 Allies for Minorities and Women in Science and Engineering, AM_WISE strives to better the working environment for graduate students and postdoctoral researchers in UNC STEM departments. AM_WISE collaborates with the Diversity and SWELL committees to enhance diversity and inclusion within the Chemistry Department.
Pictured are former chemistry graduate students Leah Bowers and Jennifer Fulton who received the University Award for the Advancement of Women, UAAW, an annual award that recognizes people on campus who have elevated the status of women, helped improve campus policies, promoted recruitment, retention and upward mobility of women and participated in professional development or mentorship for women.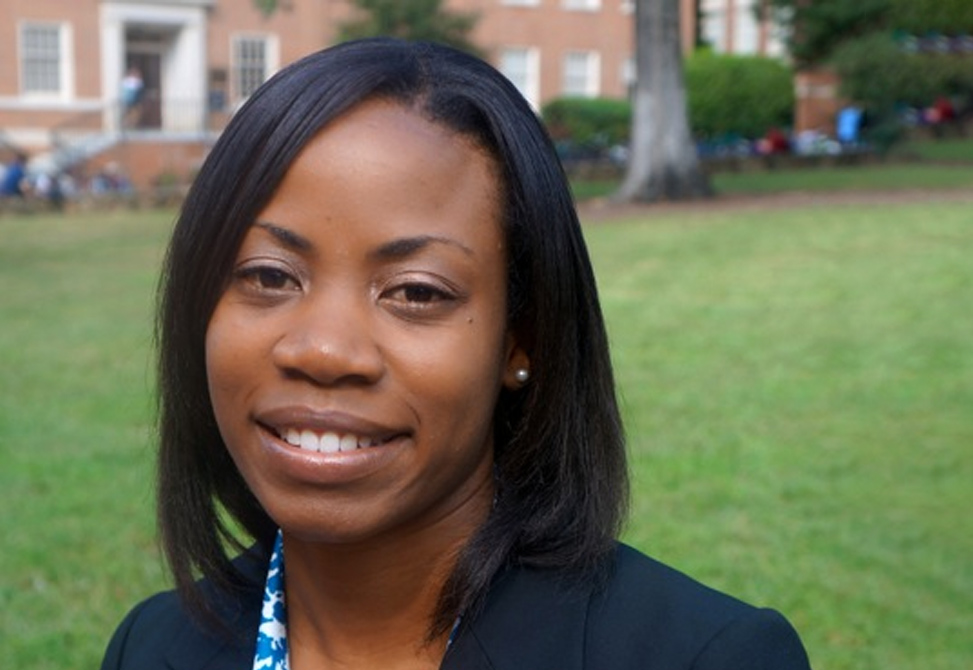 The Carolina Postdoctoral Program for Faculty Diversity encourages faculty diversity by recruiting outstanding scholars to perform postdoctoral research at UNC Chapel Hill, with the goal of training the next generation of faculty scholars.
The recent Carolina Postdoctoral Fellow shown, Dr. Sharonda LeBlanc, investigated the use of single molecule Förster/fluorescence resonance energy transfer (smFRET) to study protein – nucleic acid interactions involved in DNA repair in the Erie Labs. Dr. LeBlanc is now an Assistant Professor of Physics at NC State. Those interested in this program are strongly encouraged to contact a UNC Chemistry faculty member whose research interests them. The application window typically opens in September.
The Graduate Achievement through Mentorship (GrAM) program provides first-year graduate students with resources and support as they navigate graduate school. Incoming graduate students are matched with current graduate students in a mentoring group composed of 2 mentors and 3-4 mentees. The goal of this program is to give first-year graduate students the tools they need to succeed in graduate school and to provide senior graduate students with a formal opportunity to build their mentorship skills. Through GrAM we aim to contribute to departmental culture and create a supportive network among all graduate students.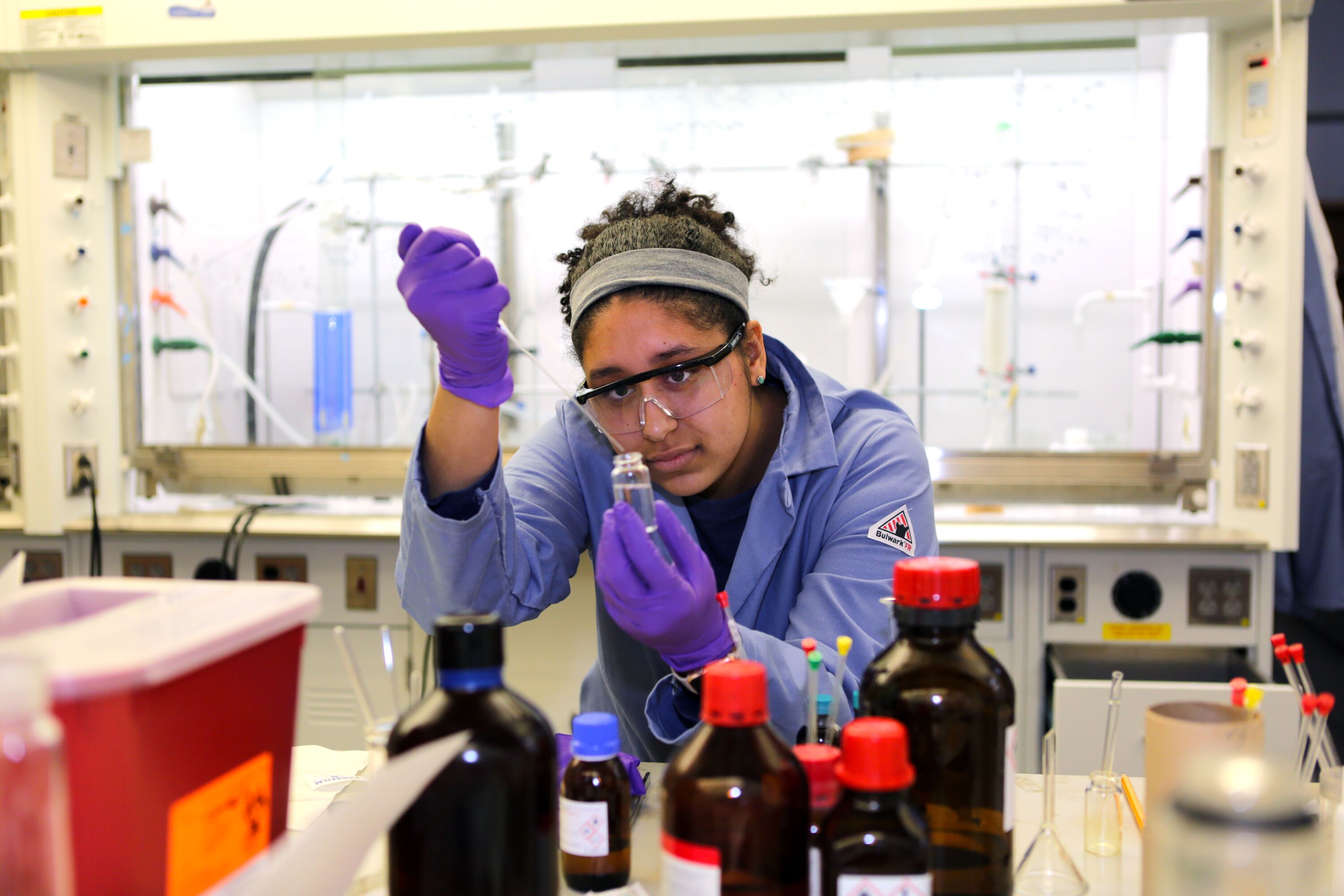 With the goal of increasing the diversity of students who become leaders in STEM, UNC's Chancellor's Science Scholars Program provides merit-based scholarships, opportunities to participate in cutting-edge research, professional development, leadership training, mentorship, and community to help students succeed both now and in the future. The CSS Program is modeled after the nationally-recognized Meyerhoff Scholars Program at the University of Maryland, Baltimore County. Many scholars participate in research and complete a research thesis in the Department of Chemistry. Kristen Gardner '19, pictured here, is a CSS and UNC Chemistry alumna who is now pursuing her Ph.D. in Chemistry at UC Berkley.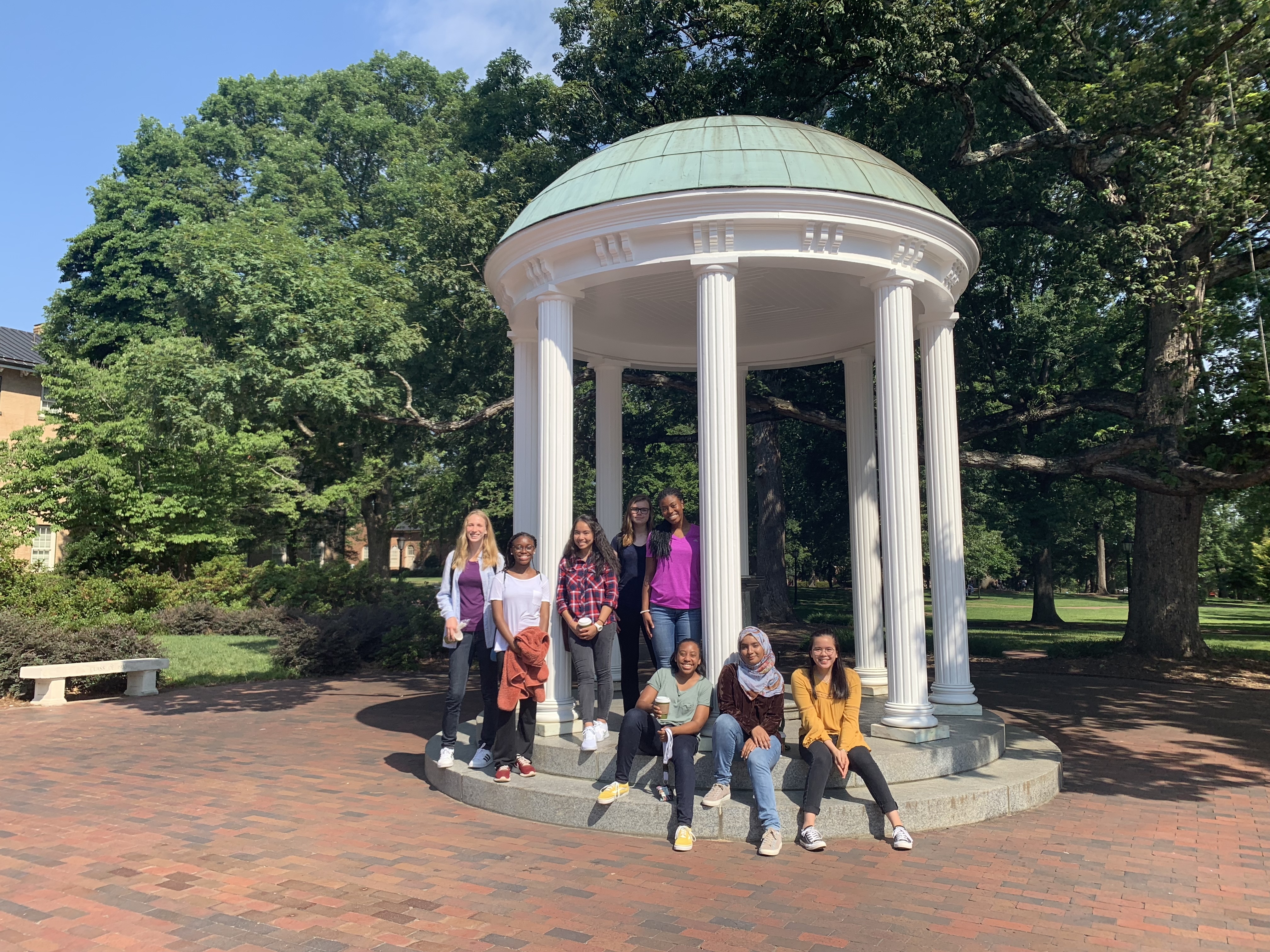 Women in Science Promoting Inclusion in Research Experiences (WinSPIRE) is a paid six-week-long summer research and mentorship program at UNC Chapel Hill for woman-identifying and nonbinary high school students. WinSPIRE provides students with hands-on experience and dedicated mentorship in a research laboratory, college-prep workshops, and an extensive support network of women in science. Founded by former Chemistry graduate student Dr. Samantha Piszkiewicz, WinSPIRE works to create a space where woman-identifying and nonbinary students can gain confidence in their ability to pursue a career in STEM by doing real scientific research with the mentorship and help of early-career scientists.
Want to contribute to the Department of Chemistry's efforts on diversity, equity, and inclusion? Have questions or suggestions? Contact the Diversity Committee Vice Chairs Marcey Waters or Nita Eskew