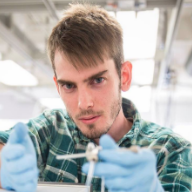 James Dodds
Research Assistant Professor
Not Accepting Doctoral Students
   Caudill Laboratories 011    
jndodds@unc.edu
Research Interests
Quick solid phase extraction prior to IMS-MS analysis, perfluoroalkyl substances (PFAS) and their isomeric diversity
Research Synopsis
James is a research assistant professor in the Baker Lab and is currently developing analytical methods for quick solid phase extraction prior to IMS-MS analysis. Applications of these methods are currently focused on studying perfluoroalkyl substances (PFAS) and their isomeric diversity.
Professional Background
James completed his B.S. in chemistry in 2013 at the University of North Georgia where he was an undergraduate researcher under the advisement of Dr. Dan Thompson focusing on developing an interface between a thermogravimetric analyzer and a single quadrupole mass spectrometer. He then went on to further study mass spectrometry with a focus on characterizing ion mobility separations under the advisement of Dr. John McLean at Vanderbilt University, where he obtained his Ph.D. in chemistry in 2018.