2021 ACS Undergraduate Awards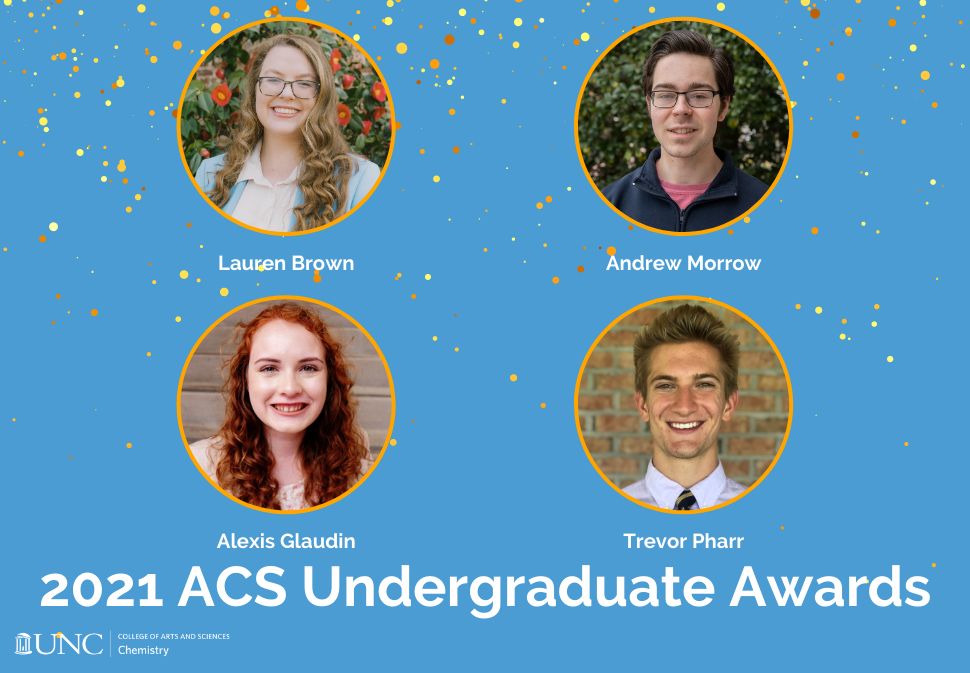 Top row, from left: Lauren Brown, Andrew Morrow Bottom row, from left: Alexis Glaudin, Trevor Pharr
April 16, 2021
By UNC-Chapel Hill Chemistry Communication
The American Chemical Society awards undergraduates for outstanding achievement in each discipline of chemistry and to encourage further studies.  
Four UNC Chemistry students are recipients of the 2021 American Chemical Society Undergraduate Awards: 
Lauren Brown

, 2021 American Chemical Society Undergraduate Award in Analytical Chemistry

 

A

lexis 

Glaudin

, 2021 American Chemical Society Undergraduate Award in Physical Chemistry

 

Andrew Morrow

, 2021 American Chemical Society Undergraduate Award in Organic Chemistry

 

Trevor Pharr

, 2021 American Chemical Society Undergraduate Award in Inorganic Chemistry

 
From Rutherfordton, NC, chemistry senior and researcher in the Lockett Group Lauren Brown, always knew she wanted to be a scientist but could not choose a field. She credits her chemistry community and professors for encouraging her to pursue chemistry.  
"Honestly, at first, I came to UNC wanting to major in chemistry because I knew I wanted to be a scientist, but I just was not sure in what field. However, I stayed in the chemistry department not only because I ended up finding my own smaller community with my chemistry classmates who I loved, but also because of the great professors I met along the way. My professors always encouraged me to go further in chemistry and eventually even helped place me in research labs where I finally found my love for analytical chemistry." 
Brown is honored and grateful to be a recipient of this award and for the support of professors and advisors throughout her time at UNC.  
"I feel both honored and grateful for all my professors and advisors who have continually supported me in my chemistry pursuits throughout my time at UNC. Specifically, I would like to thank Dr. Domenic Tiani, Dr. Nancy Allbritton, Dr. Matthew Lockett, and my two mentors Dr. Sam Hinman and Thomas DiProspero, all whom have shaped who I am as a scientist and have pushed me to excel in my chemistry career." 
In the fall, Brown will be pursuing a Ph.D. in analytical chemistry at the University of Washington. 
Chemistry senior and Chancellor's Science Scholar Alexis Glaudin from York, PA, found herself fascinated by how chemistry is used to explain the world and chose to pursue chemistry at UNC because of its high-quality research and STEM-centered diversity initiatives. She views this award as an attestation of her work in her courses and research as a member of the Aube Lab and the Papanikolas Group. 
"Receiving this award validates all the hard work I have put into my coursework at UNC and my chemistry research in the Aube and Papanikolas labs. This award gives me the encouragement to keep working hard in my studies and to keep loving chemistry." 
Glaudin offers thanks to her mentors and advisors for their support during her time at UNC and to the Chancellor's Science Scholars program for encouraging her to always be the best version of herself.  
"I would like to thank Professor Bliem for her mentorship and my research advisors Professor Aube and Professor Papanikolas for their support during my undergraduate career. Additionally, I would like to thank the Chancellor's Science Scholars Program for holding me to a high standard."  
After graduation, Glaudin has plans to pursue a Ph.D. with a focus on physical chemistry. In the future, she hopes to work with a national laboratory, like NASA or a technology company and work to educate the public about the importance of science in our everyday lives. 
Andrew Morrow is a chemistry junior from Concord, NC and researcher in the Wilkerson-Hill Group. He has enjoyed chemistry since taking his first class in high school and chose to pursue it at UNC because of the excellent chemistry department.  
Morrow feels honored to have received this award and views it as affirmation and encouragement to continue his chemistry career. 
"I feel very honored to receive this award. I was already planning on pursuing a career in organic chemistry. If anything, this award reaffirms this and makes me want to continue on." 
Next fall, Morrow will continue his chemistry education by pursuing a Ph.D. in organic chemistry at UT Southwestern. 
Chemistry sophomore Trevor Pharr from Elizabeth City, NC, credits his high school science instructors for bringing out his passion for the natural sciences. He believes the biochemistry track provided him with an interdisciplinary approach.  
"My high school instructors, Dr. Tim Anglin, Dr. Kim Monahan and Dr. Sam Wheeler were incredibly supportive and pivotal in my decision to choose my major. As instructors of chemistry, biology and physics, respectively, they each brought out my passion for the natural sciences. I thoroughly enjoyed their classes, and the biochemistry major seemed like a way for me to stay in touch with each pillar of science." 
Pharr expresses gratitude to Professor Dempsey, Professor Nevins and Professor Meyer for their mentorship in inorganic chemistry. Their guidance has enhanced his curiosity in inorganic chemistry and inspires him to continue his studies in this discipline.  
Pharr is honored to be a recipient of this award and is happy to be recognized for something he is so passionate about. This award further encourages him to continue his chemistry pursuits and reinforces his plans to conduct postgraduate research. 
During his time at UNC, Pharr was a peer mentor for inorganic chemistry, which allowed him to make meaningful connections with peers while also reinforcing his knowledge of chemistry. 
"I recommend to students who are passionate about chemistry to be a peer mentor for a chemistry class at UNC. It is a valuable way to get involved with the department and give back to your fellow students." 
After graduation, he plans to apply to medical school that offers an M.D.-Ph.D. program.