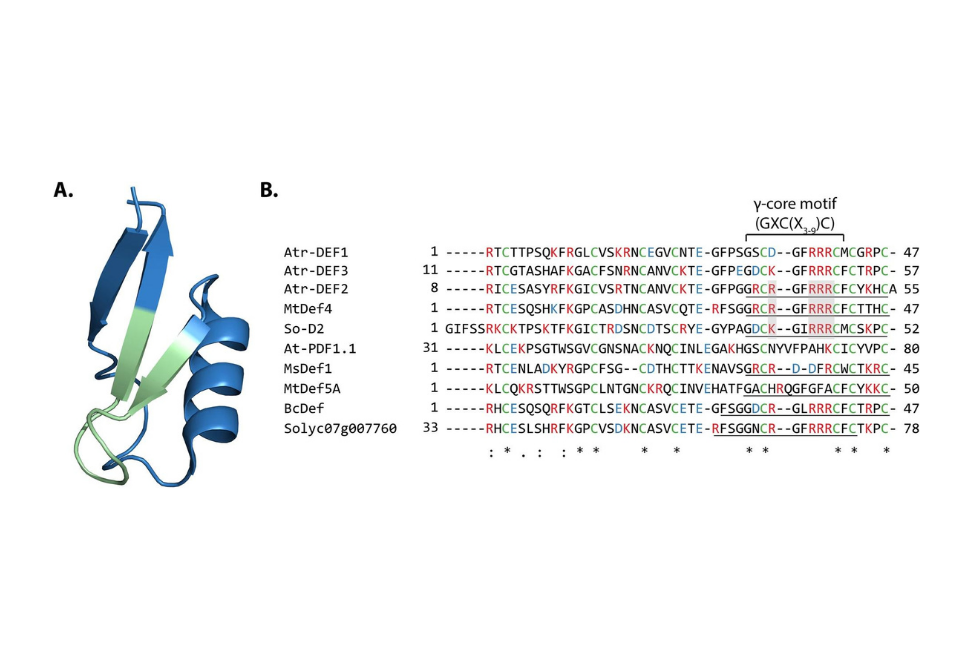 Proteomic response of Escherichia coli to a membrane lytic and iron chelating truncated Amaranthus tricolor defensin
Abstract
Background
Plant defensins are a broadly distributed family of antimicrobial peptides which have been primarily studied for agriculturally relevant antifungal activity. Recent studies have probed defensins against Gram-negative bacteria revealing evidence for multiple mechanisms of action including membrane lysis and ribosomal inhibition. Herein, a truncated synthetic analog containing the γ-core motif of Amaranthus tricolor DEF2 (Atr-DEF2) reveals Gram-negative antibacterial activity and its mechanism of action is probed via proteomics, outer membrane permeability studies, and iron reduction/chelation assays.
Results
Atr-DEF2(G39-C54) demonstrated activity against two Gram-negative human bacterial pathogens, Escherichia coli and Klebsiella pneumoniae. Quantitative proteomics revealed changes in the E. coli proteome in response to treatment of sub-lethal concentrations of the truncated defensin, including bacterial outer membrane (OM) and iron acquisition/processing related proteins. Modification of OM charge is a common response of Gram-negative bacteria to membrane lytic antimicrobial peptides (AMPs) to reduce electrostatic interactions, and this mechanism of action was confirmed for Atr-DEF2(G39-C54) via an N-phenylnaphthalen-1-amine uptake assay. Additionally, in vitro assays confirmed the capacity of Atr-DEF2(G39-C54) to reduce Fe3+ and chelate Fe2+ at cell culture relevant concentrations, thus limiting the availability of essential enzymatic cofactors.
Conclusions
This study highlights the utility of plant defensin γ-core motif synthetic analogs for characterization of novel defensin activity. Proteomic changes in E. coli after treatment with Atr-DEF2(G39-C54) supported the hypothesis that membrane lysis is an important component of γ-core motif mediated antibacterial activity but also emphasized that other properties, such as metal sequestration, may contribute to a multifaceted mechanism of action.
Citation
Proteomic response of Escherichia coli to a membrane lytic and iron chelating truncated Amaranthus tricolor defensin
Tessa B. Moyer, Ashleigh L. Purvis, Andrew J. Wommack and Leslie M. Hicks
BMC Microbiology 2021 21:110
DOI: 10.1186/s12866-021-02176-4