September 30, 2022 | By UNC-Chapel Hill Chemistry Communication 
Faculty excellence in teaching, research and service is a tradition at UNC, and Chemistry is adding to it in 2022!  We are so pleased to announce that we've had four new faculty members join us, and we hope everyone will welcome them to our department with us.  Please see below to learn more about them.
Erin Baker
Coming to us by way of North Carolina State University, Professor Erin Baker is a well-established researcher with more than 20 years' experience. Before working at NCSU, she worked spent almost 13 years as part of Dr. Richard Smith's lab at the Pacific Northwest National Laboratory, first as a postdoctoral researcher and then a full scientist.  She received her Ph.D from UC Santa Barbara and her Bachelor's degree from Montana State University.  The list of her awards and honors is extensive, and include the 2022 ASMS Biemann Medal, the 2022 Curt-Brunee award, a Spring 2021 Impact Scholar, and the ACS Rising Star award, just to name a brief list.
Professor Baker also has well over 150 publications to her name, with almost 40 in the last 4 years alone. A strong tenant of her lab is respect and inclusion, which is well demonstrated by the success of so many of her students.  The Baker lab has established using multidimensional separation techniques such as solid phase extractions, liquid chromatography, ion mobility spectrometry, and mass spectrometry to evaluate molecules present and changing in biological and environmental systems. Some of the research projects they are currently working on include the development of high-throughput analyses to study numerous samples in a short time period as well as informatics studies to evaluate and connect the complex multi-omic data with available phenotypic data. Be sure to read more about their work at her lab's webpage, on her Google Scholar and Linkedin pages, or follow her on Twitter for more exciting news about her research.
Jade Fostvedt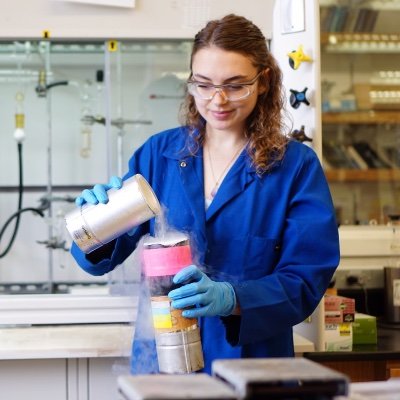 The latest addition to UNC Chemistry's Teaching Faculty, Professor Jade Fostvedt joins us from the University of California Berkeley where she received her Ph.D in inorganic chemistry and worked as an Instructor underneath Dr. John Arnold.  Her specialties in teaching lay in general and inorganic chemistry.  She received her Bachelor's Degree from the University of South Dakota.  While at UC Berkeley, her efforts at teaching and research have been recognized with such awards as the Chancellor's Fellowship for Graduate Study, the Teaching Effectiveness Award, an NSF Graduate Research Fellowship, and the Outstanding Graduate Student Instructor Award.
Professor Fostvedt has done a significant amount of outreach for teaching chemistry, such as working with Community Resources for Science and her Science at Home videos during the pandemic. As a teaching professor, she aims to help students develop and follow their own passions through chemistry.  Her latest publications can be found on her Google Scholar page, and more information about her work at her Linkedin profile.
Megan Jackson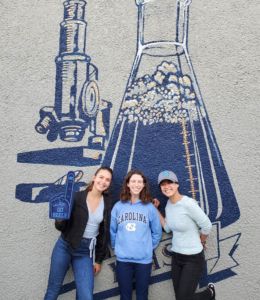 Professor Megan Jackson joined the faculty on July 1st as an Assistant Professor of Chemistry. Prof. Jackson received her B.S. degree from Caltech, where she conducted research in the lab of Prof. Harry Gray. She completed her Ph.D. in the lab of Prof. Yogesh Surendranath at MIT as a National Defense Science and Engineering Graduate Fellow.  As a graduate student, she demonstrated that molecular sites that are strongly electronically coupled to graphitic electrodes behave as metallic active sites rather than simply as molecules attached to a surface. She then joined the laboratory of Prof. Jeffrey Long at UC Berkeley, supported by an Arnold O. Beckman Postdoctoral Fellowship and a University of California President's Postdoctoral Fellowship Program Award. 
Her postdoctoral work focused on controlling the materials properties of metal–organic frameworks, including morphology, surface chemistry, and defect chemistry. At UNC, her lab will use tools from electrochemistry, materials chemistry, and inorganic chemistry to bring bottom-up design principles to heterogeneous electrocatalysis for energy conversion. Keep up with the latest in her lab by following her Twitter account or by reading about her latest publications on her Google Scholar page and Linkedin page.
Huong Kratochvil
During Professor Kratochvil's time at UNC, her lab will tackle questions of channel/transporter structure and function and key protein-protein interactions in immunology through protein design strategies.  Please see more about her previous work on her Linkedin profile and her Google Scholar page, and keep up to date with the latest happenings in her lab on her Twitter.
Photos in this article courtesy of Social Media, NCSU, the UC Berkeley, Megan Jackson and UC of San Francisco.