Eshelman School of Pharmacy, UNC Department of Chemistry partner to launch UNC Chemistry-Biology Interface Training Program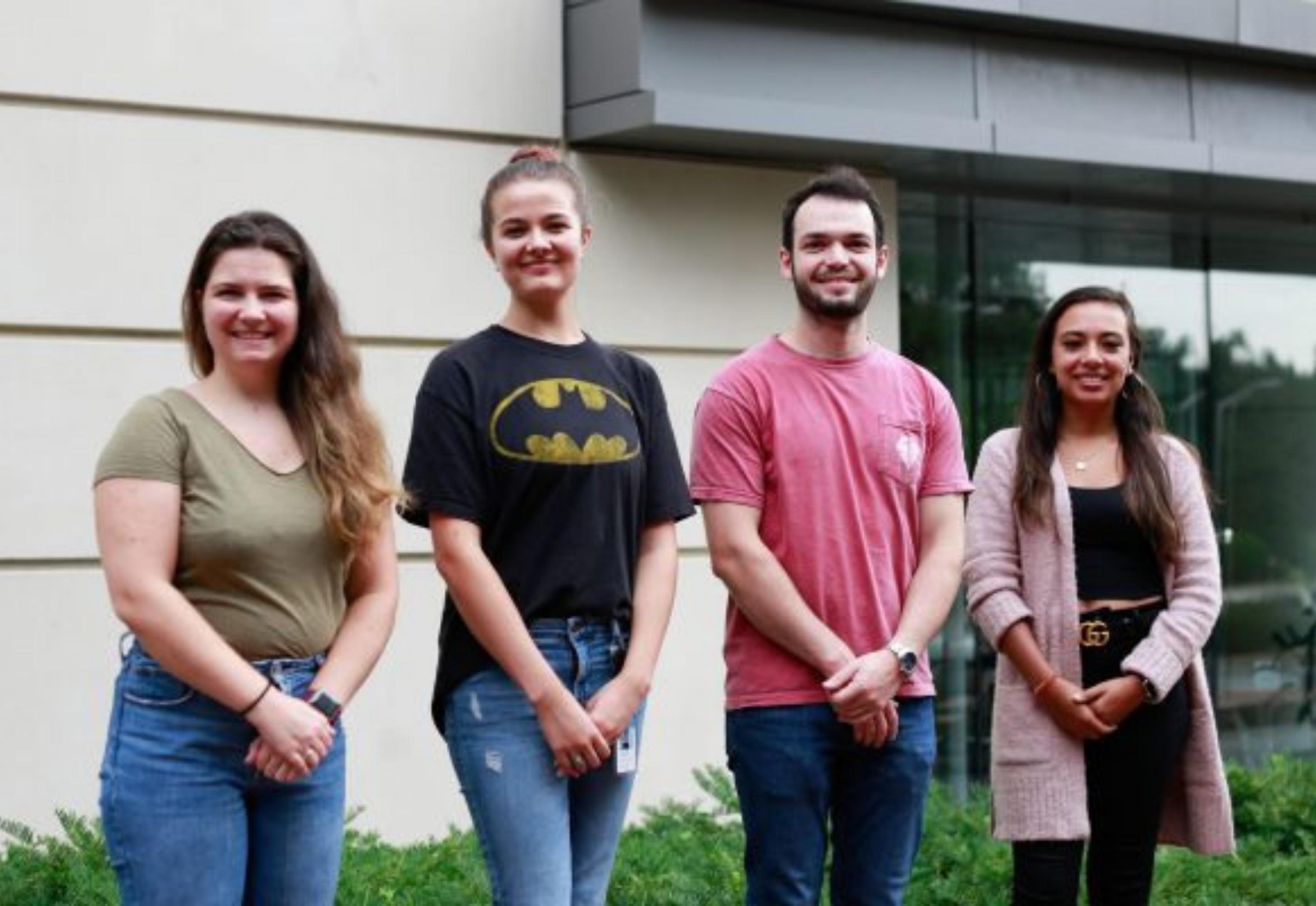 January 5, 2022 | By Brittany Jennings, UNC Eshelman School of Pharmacy
The UNC Eshelman School of Pharmacy is joining forces with the UNC Department of Chemistry to establish an NIH-funded UNC Chemistry-Biology Interface Training Program that will support graduate students preparing for careers in modern biomedical science.
The T32 CBI Training Program will provide financial support and training opportunities to help outstanding graduate students become independent, skilled, and creative scientists with broad expertise that spans chemistry and biology. In addition to coursework and regular journal clubs, the program will provide tailored mentoring to each trainee's individual research interests and career goals.
The chemistry-focused T32 program – a first of its kind at UNC – will be co-directed by Jeff Aubé, Ph.D., distinguished professor in the UNC Eshelman School of Pharmacy's Division of Chemical Biology and Medicinal Chemistry (CBMC), and Marcey Waters, Glen H. Elder, Jr. Distinguished Professor in UNC's Department of Chemistry.
"We are excited to have this opportunity to work with some of our most promising graduate students as they seek to join the next generation of great scientists," Aubé said. "And we're excited for UNC to join the national network of 33 CBI training programs that includes some of the most distinguished universities in the country."
Participating CBI researchers are appointed in two academic divisions: the CBMC division within the UNC Eshelman School of Pharmacy, and the biological and organic chemistry divisions in the UNC Department of Chemistry (College of Arts and Sciences). The two units have a strong and continuing tradition of close interactions, including collaborations and a shared seminar series.
Waters added, "This program is a wonderful opportunity to expand upon existing interactions between CBMC and Chemistry to train the next generation of biomedical researchers at the interface of chemistry and biology."
Meet the inaugural class of trainees:
J
essica Umana
Undergraduate institution/degree: Converse University; Bachelor's of Science in Biochemistry
Can you tell us about your current research? I am working to use our lab's chemical technology that utilizes endogenous epigenetic machinery to control expression of a popular therapeutic gene therapy virus to provide chemical control over the virus and its therapeutic effects.
What do you hope to gain from the CBI program? I hope to increase my understanding of synthetic and medicinal chemistry. Doing so will improve my ability to understand what is happening on a chemical level when using biology and chemistry to develop biological therapeutics in the future.
How do you hope to impact people's lives? I hope to be a part of the development of multiple biological therapeutics that help to improve patients' lives by either the treatment or cure of diseases.
Peter Dykeman-Bermingham
Undergraduate institution/degree: Middlebury College; Biochemistry (BA)
Can you tell us about your current research? My research aims to extend the architectural complexities and functional capability of biomacromolecules to synthetically accessible polymeric materials. Specifically, I am using a peptide derived subunit to induce intrachain associations and am correlating these structures to capabilities for water remediation.
What do you hope to gain from the CBI program? The Knight lab centers its activities in biomimicry, so my exposure to the cutting edge in biology through the chemistry biology interface program will hopefully lead to fruitful inspiration. Additionally, biologists have developed powerful analytical techniques that I hope to adapt to my polymer work, specifically NMR experiments.
How do you hope to impact patients' lives? My project currently has an environmental goal –  water remediation –  so I hope to impact patient's by preventing illnesses borne from these water contaminants.
Caylie McGlade
Undergraduate institution/degree: Winthrop University; B.S Chemistry
Can you tell us about your current research? My current research in the Dr. David Lawrence group focuses on light-activated therapeutic delivery using a wavelength-tunable system. We aim to effectively treat a range of diseases with this system, including cardiovascular diseases and cancer.
What do you hope to gain from the CBI program? The biomedical sciences are a diverse field with a huge range of jobs and opportunities, even though only a few categories ever really get talked about. Even having barely started the program, I feel that I am learning so much about the types of things I can do with a Ph.D. that I think will be really helpful in developing my career goals.
How do you hope to impact people's lives? One thing I think is amazing about science is that even if you never invent a life-saving technology or create a groundbreaking drug, the scientists that developed that drug or technology stand on the shoulders of all the people that have gone before them. I'd like to think that even if I am not one of those inventors, I will have contributed in some way to the advancement of medicine.
Meghan Ricciardi
Undergraduate institution/degree:  I attended Ithaca College in Ithaca NY for my undergrad. My degree is a Bachelor of Science in Biochemistry.
Can you tell us about your current research? My current project is focused on analyzing epigenetic reader proteins specifically methyl lysine reader proteins. I am looking at the binding of these proteins to methylated lysine to better understand their electrostatic preferences.
What do you hope to gain from the CBI program? From this program I am hoping to gain professional development and broaden my knowledge in the realm of chemical biology through my peers. My future goal is to be a part of the drug discovery process. This could be in the scope of synthesizing new medicines for patients or informing medicinal chemists through a protein standpoint.
How do you hope to impact people's lives? Ultimately, my work will hopefully help to expand the chemical biology and drug discovery fields to help patients fight diseases in the future.