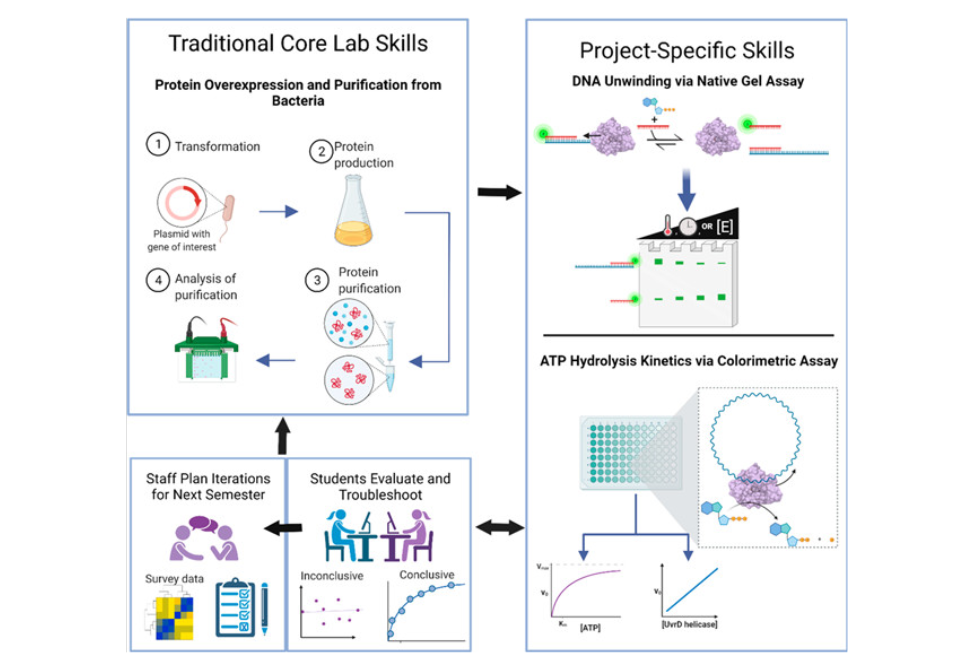 CUREing Biochemistry Lab Monotony
Abstract

Undergraduate research experience is critical to success in postgraduate research settings. The recent movement away from "cookbook" style laboratories to course-based undergraduate research experiences (CUREs) in undergraduate laboratories has allowed universities to provide inclusive research experience while bypassing the limitations of extracurricular apprenticeships. This paper describes an upper-level biochemistry CURE designed to provide students with an introductory experience to graduate-level research by studying a suspected DNA helicase. This CURE is designed to span multiple semesters, where each student cohort builds upon the work of previous semesters. Pre- and postcourse surveys were employed to assess student confidence in bench skills, perceptions of the course, and project ownership. The results show that the incorporation of lab meeting style recitations and poster presentations led to higher project ownership, while overcoming troubleshooting was a significant challenge. Furthermore, confidence in every experimental technique increased significantly in all but one instance. Based on these results, this CURE is providing students with a realistic experience in graduate-level research.
Citation
CUREing Biochemistry Lab Monotony
Matthew J. Satusky, Hunter Wilkins, Bryant Hutson, Mahfuz Nasiri, Dillon E. King, Dorothy A. Erie, and Thomas C. Freeman Jr.
Journal of Chemical Education Article ASAP
DOI: 10.1021/acs.jchemed.2c00357