May 30, 2023 | By Elizabeth Poindexter
Graduate students from across North Carolina — including several from the Department of Chemistry at UNC-Chapel Hill — came together in May for a two-day professional development conference that partnered industry experts with graduate students.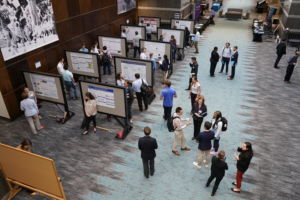 The second annual conference, hosted UNC-Chapel Hill based off of the Accelerate to Industry (A2i) model, brought together graduate students in chemistry from UNC-Chapel Hill, the University of North Carolina at Greensboro and North Carolina Agricultural and Technical State University.  
Ph.D. candidate Jennica Kelm, with UNC-Chapel Hill, co-directed this year's conference alongside fellow Ph.D. candidate Charlotte Montgomery and recent alumna Suanna Liang ('23 Ph.D.) The department is part of the College of Arts and Sciences. 
"At UNC-Chapel Hill, we are very lucky to have the resources that we have," Kelm said. "It was important to us to extend those opportunities to schools that might not have the opportunities to do that themselves." 
The conference included several events for networking, a student poster session, opportunities for resume review, and individual meetings with employers. Vanessa Doriott Anderson, The Graduate School's assistant dean for academic and career development, facilitated a workshop on negotiation. Anderson supports CareerWell, The Graduate School's professional development program. 
"A misconception is that just because you have a Ph.D. you can land a job," Kelm said. "You're still going to have to go out and advocate for yourself. We're very good at the research we do, but we're not taught how to go out and be a really successful job candidate. That's something that everyone walks away from A2i with — learning the steps that you need to get the job that you want." 
The event brought together more than 60 students with 12 companies, many of which are based in the Research Triangle Park. 
Kelm encouraged graduate students to seek opportunities in professional development early on in their graduate studies.  
"There are so many low-stakes opportunities to learn how to network with someone — how to shake a hand, now to make small talk and to make an elevator pitch," she said. "We can start to learn together what opportunities various companies have." 
Kelm said she hadn't considered graduate school until she had a mentor during her undergraduate studies at Pacific Lutheran University. At Carolina, her research in Jillian Dempsey's lab focuses on better understanding materials and their possibilities for renewable energy. 
"I didn't know how to put a Ph.D. to use," she said. "I felt a lot of personal growth over the two days. … Younger students have the opportunity to start to build a foundation." 
Industry participants
BASF

 

Bristol Myers Squibb

 

Corteva

 

Eastman

 

Ford

 

Merck

 

Micross Components, Inc.

 

Procter & Gamble

 

Parker Lord

 

Pine Research

 

Solvay

 

Wolfspeed