NCCU-UNC Master's to Ph.D. Chemistry Bridge Program
Introduction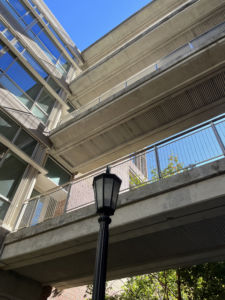 North Carolina Central University (NCCU) and the University of North Carolina at Chapel Hill (UNC Chapel Hill) have been jointly awarded a $250,000 grant from the Alfred P. Sloan Foundation, which through its Pathways to STEM Graduate Education Program is investing millions of dollars in Minority Serving Institutions (MSIs) to boost the numbers of students of color entering STEM fields.
With the funding, NCCU is establishing a program enabling students enrolled in its M.S. program in Chemistry to engage in mentored research and take courses at UNC Chapel Hill. This enhanced experience will do it's best to prepare participants to be highly competitive applicants to top-ranked chemistry Ph.D. programs, including UNC's Ph.D. program. Under the partnership, two students per year will enroll in the Bridge program, for a total of four students at a time.
Students will be jointly mentored by faculty and students from both institutions with opportunities to rotate between different research laboratories and classrooms. Professional development opportunities includes training in wellness and self-advocacy, as well as guidance for writing job, fellowship and graduate school applications, and structured opportunities to practice and receive feedback on oral presentations and mock interviews.
By establishing the Bridge Program infrastructure, UNC and NCCU expect to increase the pool of highly trained minority students with M.S. and Ph.D. Chemistry degrees. This Bridge Program will hopefully be a seed to grow into the future, ultimately scaling to include more students. With expansion to other STEM fields and institutions, eventually it will result in highly trained scientists from underrepresented groups. Enhanced collaboration between the two departments is also anticipated. On a broader scale, the success of this program and its students will initiate change within the environment of UNC's Ph.D. program by establishing structured mentoring practices to support student success.
Abdul K. Mohammed, Ph.D., professor and chair of NCCU's Department of Chemistry and Biochemistry, and Thomas Freeman, PhD serve as the lead principal investigators on the grant to the Alfred P. Sloan Foundation. Other co-PIs include NCCU chemistry professors Fei Yan, Ph.D., and Darlene Taylor, Ph.D. UNC chemistry professors Gerald Meyer, Ph.D., Marcey Waters, Ph.D., and Wei You, Ph.D.
Overview
The M.S. to Ph.D. Bridge Program in Chemistry is a new joint program funded by the Sloan Foundation between North Carolina Central University (NCCU), which is a public, historically black university, and UNC-Chapel Hill which is located just 11 miles away.
This program provides a unique pathway for students to earn a PhD in chemistry with an M.S. degree as a steppingstone, with a preference for students who will promote social, economic, and cultural diversity within the field of chemistry.
Who Should Apply?
Students with a baccalaureate degree in Chemistry from an accredited institution who are interested in pursuing a Ph.D. in Chemistry and would benefit from personalized training, mentoring, and research experiences.
What Should you expect?
A COMPETITIVE EDGE – As a Bridge Scholar, you will be provided with full funding support for your second year, including tuition waiver, and a monthly stipend. In two years, you will earn a Master of Science (M.S.) degree in Chemistry and will develop the strong academic foundation and research skills through personalized mentoring relationships from faculty and peer mentors at both NCCU and UNC Chapel Hill that foster a successful transition to a PhD program.
A CHOICE – Joint research opportunities between NCCU and UNC are available in Analytical, Biological, Computational, Inorganic, Organic, Physical, Polymer/Materials Chemistry.
How To Apply
Students must apply to NCCU's Chemistry MS program to be considered for the Bridge Program. Students will be nominated for the program during their first year.
Program contacts
Dr. Fei Yan
Professor and Graduate Program Coordinator
919-530-7518
fyan@nccu.edu
Dr. Abdul Mohammed
Professor and Chair
919-530-6351
amohammed@nccu.edu