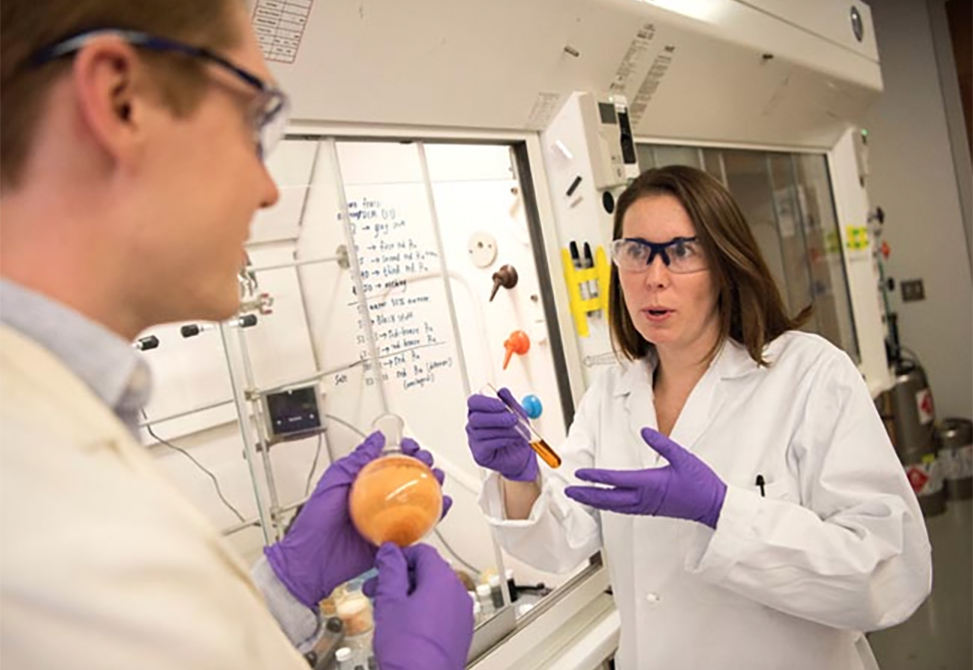 Young Faculty Thrive
When Jillian Lee Dempsey was interviewing for faculty positions across the country several years ago, she was thrilled to find that Carolina Chemistry's senior faculty members were uniquely supportive of her.
"They were invested in my success," said Dempsey, now an assistant professor of chemistry in the College of Arts and Sciences who examines the challenges associated with solar energy conversion. "And I thought, 'If they want me to succeed at the interview, imagine how helpful they will be in getting tenure.'"
Now in her fifth year with our department, Dempsey said that sense she had during the interview has been spot on — and she credits those senior faculty members for her successes, including winning the prestigious Packard Fellowship for Science and Engineering in 2015 and the Sloan Research Fellowship in 2016.
She is just one example of how dedicated mentorship and cross-disciplinary collaboration combined with stellar academic facilities have created an environment at Carolina that has emerging faculty leaders thriving and receiving some of the nation's most prestigious awards for early and mid-level faculty. Those honors include the Packard and Sloan fellowships, the Howard Hughes Medical Institute Faculty Scholar and the National Science Foundation Early Career Development Award.
"Attracting, developing and retaining premiere faculty talent is a must for Carolina to continue forward as a leading global public research university," said Chancellor Carol L. Folt. "These prestigious awards help us accomplish this goal and support the groundbreaking work of our young faculty members who are creating next-generation research approaches to solve global challenges."
"Having inspiring faculty scientists, explorers and creators in our classrooms and labs ignites student dreams. For a student intent upon following their passion to make an impact in the world, there is no substitution for the opportunity to work alongside a faculty member who is making world- and life-changing discoveries."