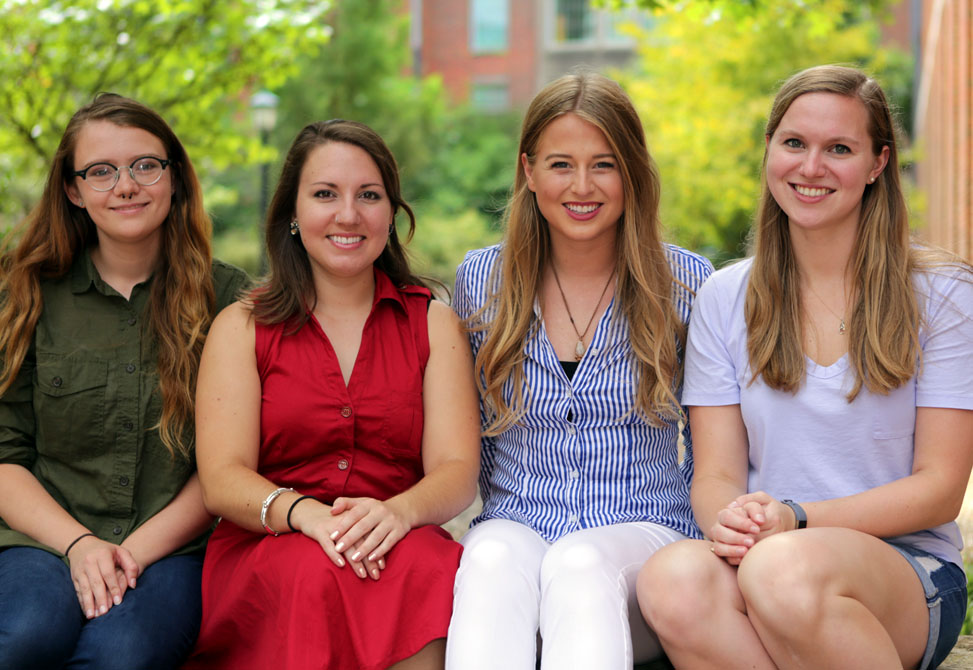 Claire Booth Luce Fellows
From left to right, graduate students Tiffany Crawford from the Glish lab, Rachel Johnson, Li lab, Breanne Hatfield, Weeks lab, and Jill Williamson with the Leibfarth lab, are the first fellows awarded from a recent "Claire Boothe Luce" grant.
The $300,000 grant for which Jillian Dempsey is the principal investigator and director, supports three new graduate fellowships for women in chemistry at UNC-Chapel Hill. The fourth fellowship is provided by UNC. The fellowships will be used to support and nurture women graduate students who are aspiring to tenure-track academic positions.
Since its first grants in 1989, the Clare Boothe Luce Program has become one of the single most significant sources of private support for women in science, mathematics and engineering.
Clare Boothe Luce, the widow of Henry R. Luce, was a playwright, journalist, U.S. Ambassador to Italy and the first woman elected to Congress from Connecticut.
In her bequest establishing this program, she sought "to encourage women to enter, study, graduate and teach" in science, mathematics and engineering. Thus far, the program has supported over 2,300 women.