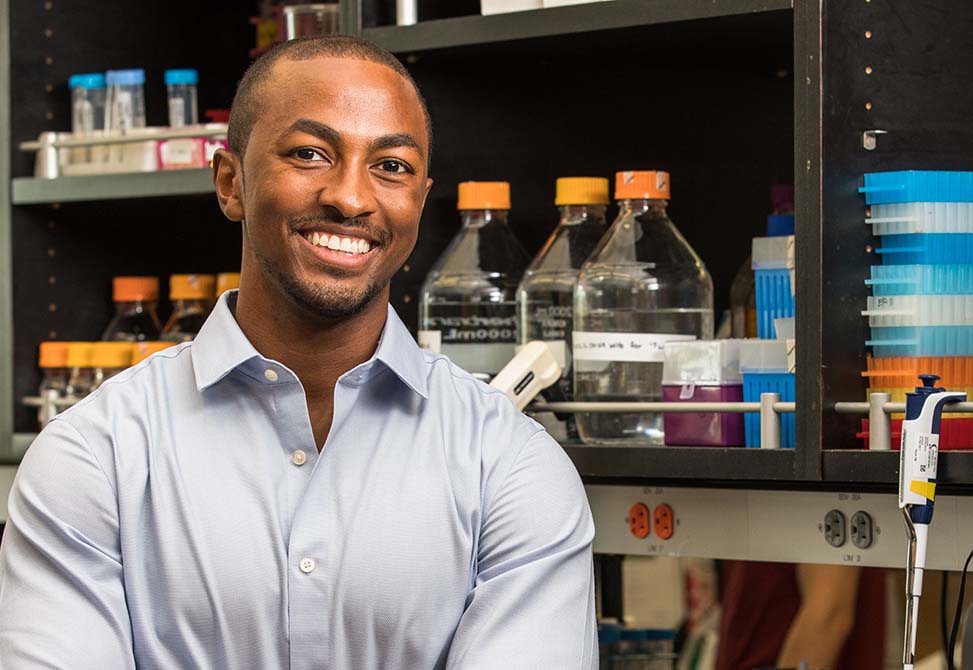 Hanna Gray Fellow
A former undergraduate research, and recent Master's student in the Pielak Group, Christopher Barnes, is one of 15 recipients of a 2017 Hanna Gray Fellowship from the Howard Hughes Medical Institute.
Christopher, who was a chemistry major and played varsity football at UNC, was both an undergraduate and a graduate student in the Pielak Lab. There, he helped design a bioreactor for in-cell NMR, for which the group was awarded a patent, and the connected papers made the cover of the Journal of Magnetic Resonance. He also used in-cell NMR to make seminal contributions to our understanding the dynamics of protein in living cells.
The Howard Hughes Medical Institute announced recently the selection of 15 exceptional early career scientists as the first group of HHMI Hanna Gray Fellows. These recent PhD recipients will continue their training as postdoctoral fellows at 11 institutions in the U.S. Their research interests span a range of disciplines, including chemical biology, computational biology, genetics, immunology, microbiology, neuroscience, structural biology, and systems biology.
Each fellow will receive up to $1.4 million in funding over eight years, with mentoring and active involvement within the HHMI community. In this two-phase program, fellows will be supported from early postdoctoral training through several years of a tenure-track faculty position.
Using cutting-edge crystallography and microscopy techniques, Christopher aims to reveal — in extreme detail — how newly isolated antibodies neutralize HIV-1 by latching onto viral envelope proteins. He also plans to uncover how the virus gains illicit entry into cells by examining the structural changes that help the virus lock into a cellular target. These insights may point out ways to devise even more powerful therapeutics, including rationally designed HIV-1 antibodies, which could help scientists stamp out the shifty virus for good.